Summary
How to Recover Deleted Text Messages on iPhone - In this post, we'll go through four practical methods and one quick solution for recovering deleted text messages on iPhone.
Introduction
Losing important data is the kind of scare that you don't think about until it happens. You go to seek for a photo or an old message on your iPhone and gasp in terror when you realize it's no longer there.
It's simple to delete text messages or iMessages from your iPhone. But if you swipe the wrong way, then you're out of luck. Most of the time, we don't need to access these messages for a day or more after we send or receive them, but this isn't always the case.
Fortunately, those deleted text messages can be recovered. In this article, we'll look at how to recover deleted iPhone messages.
Part 1. Can You Retrieve Deleted Texts from iPhone?
The solution can be Yes or No, depending on the circumstances. Check them out in the list below.
Situation 1. If You have backed up Your iPhone
If you have a good habit of backing up iPhone messages and other data, whether to iCloud, iTunes/Finder, or a local backup folder, you may be able to recover your deleted iPhone messages. However, for the iTunes and iCloud backups, Apple does not allow us to preview what is stored in the backup file, so we cannot be sure whether the deleted messages can be recovered. But it's worth a shot.
Situation 2. You have no backup of your iPhone
Is there an option to recover deleted text messages on an iPhone if you haven't previously backed up your device? Technically, the answer is YES. When we store data on the iPhone, it is written in the form of code and saved on the internal memory; when we delete data, we cannot see it on the iPhone, but it is still in the internal storage unless other new data takes up its storage position, which is known as data overwriting. As a result, you can recover deleted messages in this situation.
Situation 3. You have no backup, and the messages are overwritten
If you have no backup file and then overwrite deleted text messages, there's always the last chance and option to ask your iPhone mobile provider or carrier to help, and they can store your text messages on their server.
We've gathered five practical methods to help you get deleted SMS messages on your iPhone, based on the possible situations in which you may be stuck.
Part 2. Recover Deleted Texts on iPhone With Backup
The standard methods for recovering deleted text messages from iPhones are available; however, most people are unaware of all of them. If you have an iPhone backup on iTunes or iCloud, you can quickly recover iPhone SMS from that backup. Below, let's look at a few of the methods on how to recover deleted text messages on iPhone.
Method 1. Recover Deleted Texts Using iTunes
If you regularly backup your iPhone using iTunes, you might be in luck. The iTunes backup includes a complete backup of all files on your iPhone, including text messages from the Messages app. When you connect your iPhone to the computer, iTunes usually automatically backs it up.
However, it should be noted that restoring an iTunes backup will erase your iPhone's current data and replace it with backed-up data. As an outcome, you may lose your existing data. So, only go ahead if you're comfortable going back in time to when your backup was created.
Follow the steps below to restore iPhone messages and other data using iTunes.
Step 1: First, connect your device to your PC using a USB cord.
Step 2: Now, open "iTunes" on your PC, and tap on the "Phone" icon and select your "Device."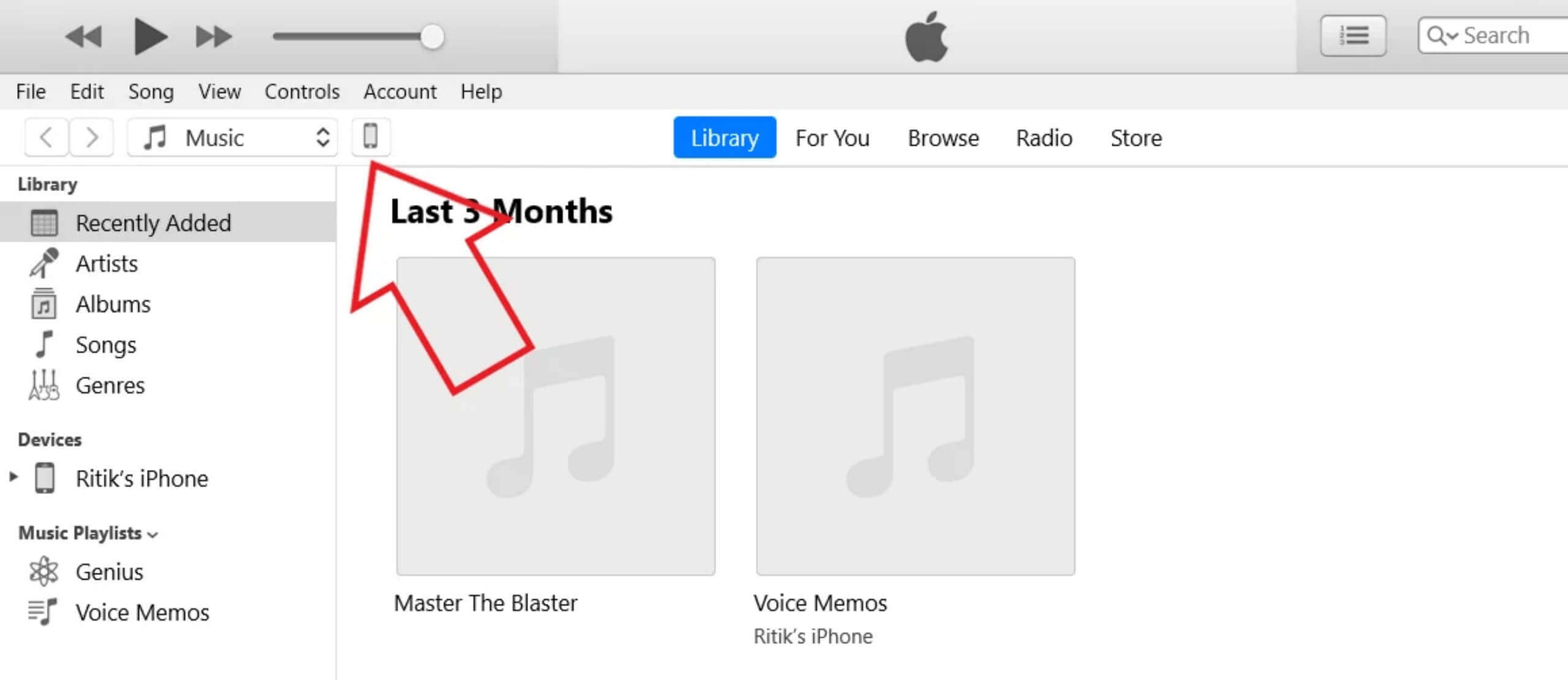 Step 3: Once done, click on "Summary," and you will be able to view the latest backup details.
Step 4: Confirm if the backup is before deleting the text. If yes, tap on "Restore Backup."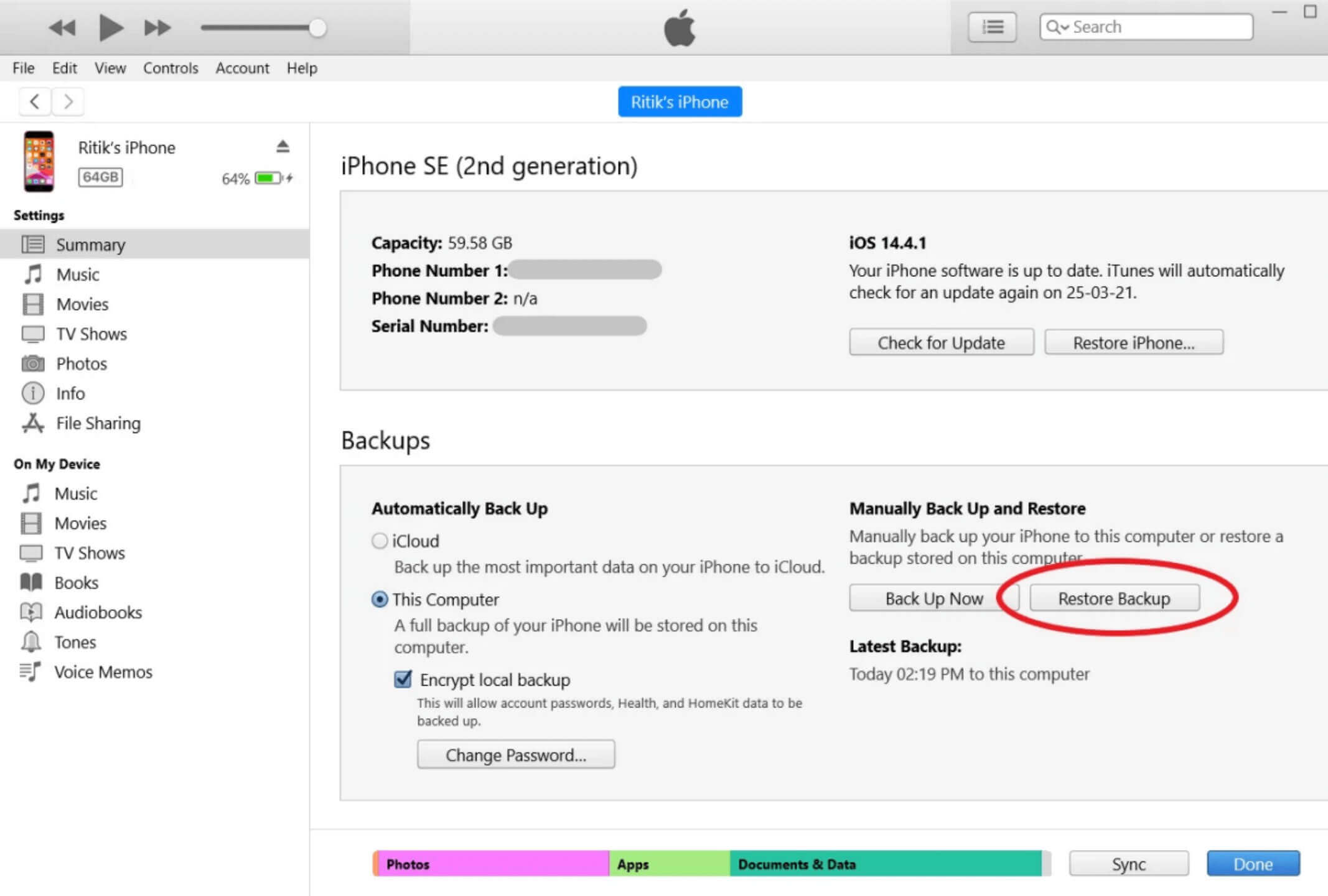 Step 5: Finally, tap on "Restore" when the pop-up appears, and you are done!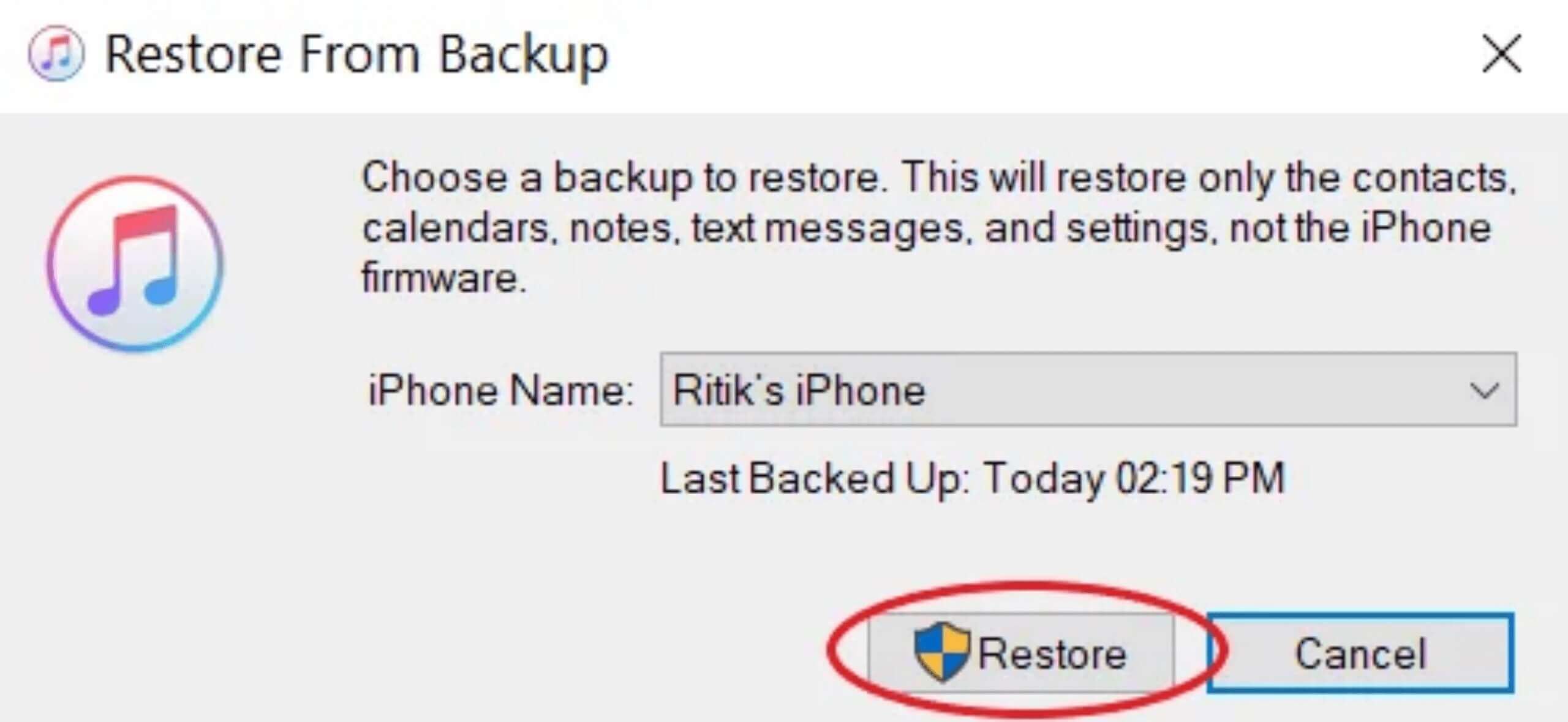 Note: That's it. Your iPhone will now be restored with all of your previous data. Usually, deleted messages will appear in the Messages app. Remember not to fix the backups you made after deleting the messages, as they will not contain the deleted data.
---
Method 2. Recover deleted texts from an iCloud backup
If you have an iCloud backup of your iPhone from before you deleted the texts, you may be able to recover them using this method. Here's how to do it.
Step 1: First, navigate to "Settings" and then hit on "Your Name."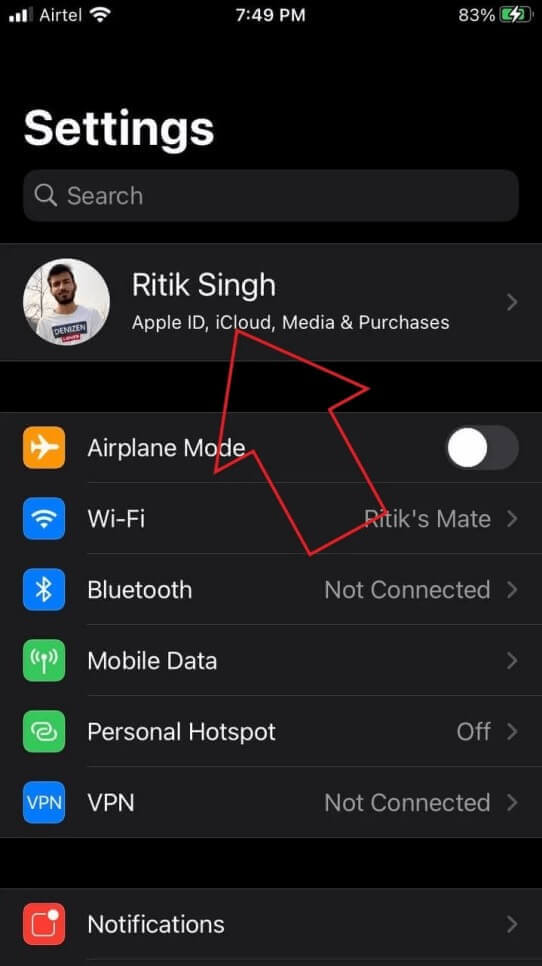 Step 2: Now, tap on "iCloud" and then select "Manage Storage" and, in the end, "Backups."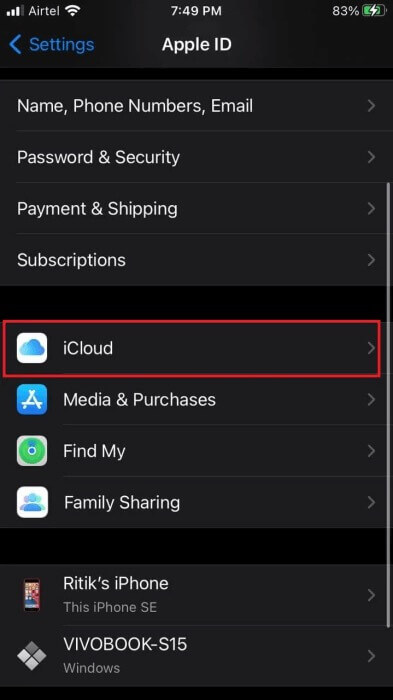 Step 3: Now, you can view a list of backups available. Search for a proper device backup and have been saved before the message was deleted (s).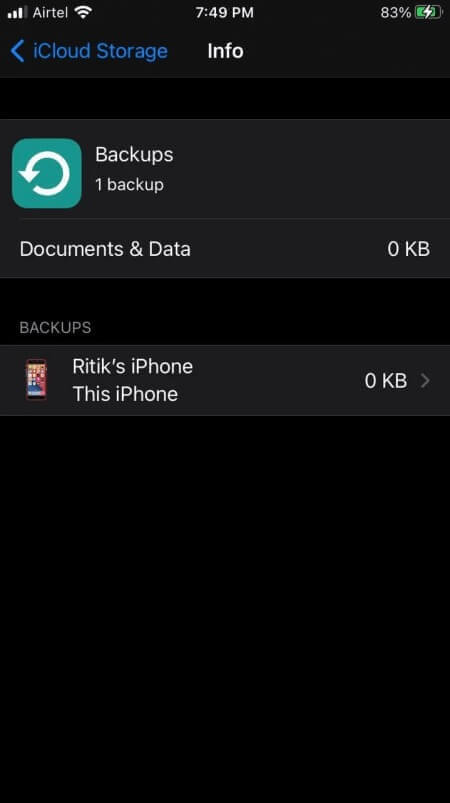 Step 4: Finally, to restore, click on the available backup option and tap on "Restore."
Note: It should be noted that to get your iPhone back to the previous one, you might need to factory reset your device, which might result in losing current data.
If you have no old data backup - or do not want to overwrite the added data from the old backup - something else will have to be tried. Don't be desperate: we've got more choices.
---
Method 3. Retrieve iPhone Messages with iCloud Messages
After iOS 11.4, iCloud Messages is available on any iOS device. If you log in to the same Apple ID, messages will be synchronized with iOS devices, and iCloud Messages are activated. The messages option is available on your iPhone on iCloud Settings, and you will see an icon in icloud.com when you log in. Then you can try recovering your messages from iCloud. Here is how:
Step 1: First, navigate to the "Settings App" on your device.
Step 2: Now click on [your name] and hit on iCloud.
Step 3: Next, disable the "Messages App" and again "Enable."
Step 4: In the end, go to "Messages App," and you can view "Downloading Messages from iCloud.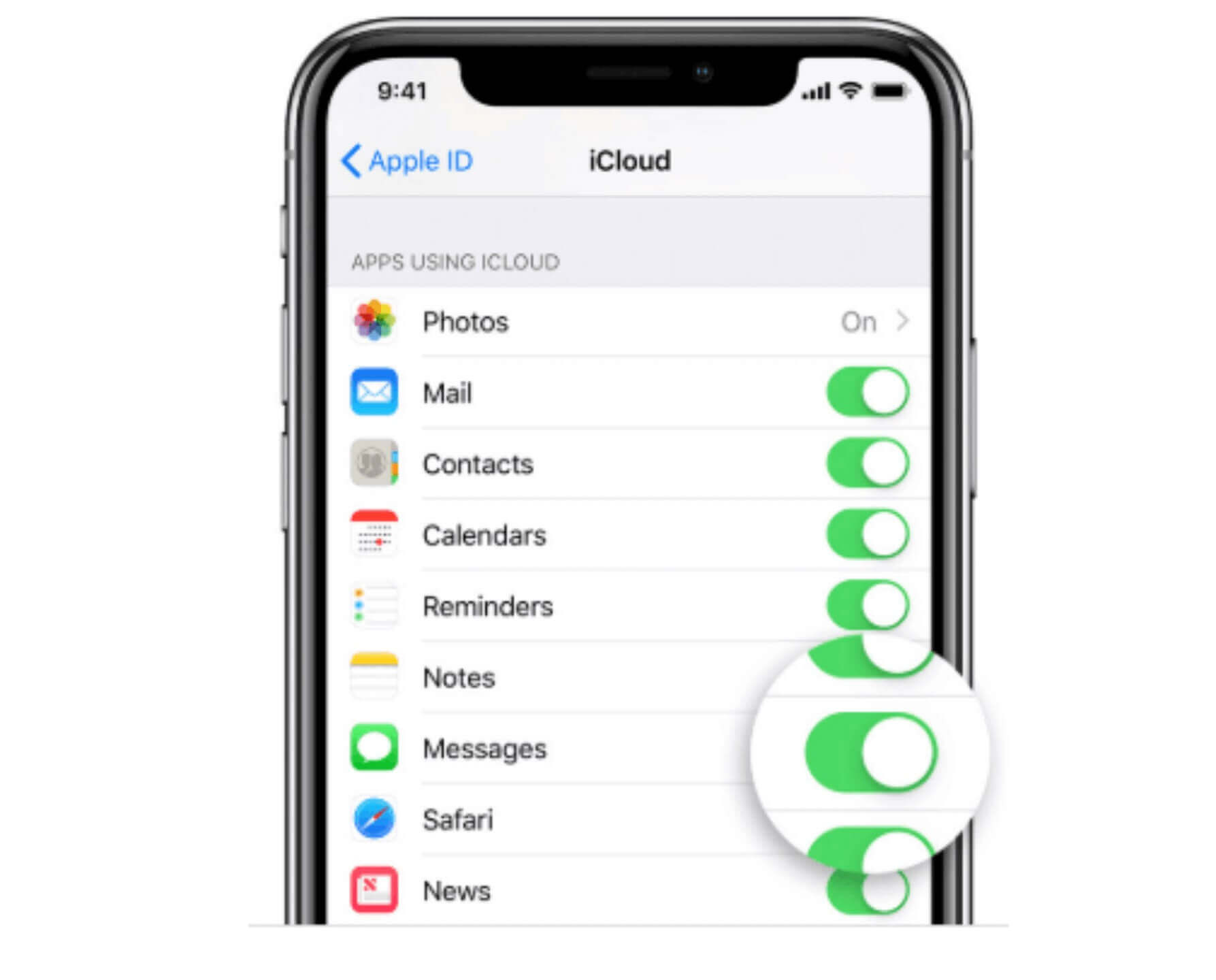 ---
Method 4. Contact Your Cellular Service
This is a long shot, but your mobile provider sometimes has a backup of recently sent and received messages. This will not work for iMessage but can work for messages from MMS or SMS. This should be one of your last resorts, as you can count on it far from anything.
Part 3. Recover Deleted Texts on iPhone without Backup
Suppose you deleted SMS messages from your iPhone without a backup. In that case, it is far safer to recover deleted text messages using third-party software that can access the iOS SQLite database. Google it; you'll find many free iPhone data recovery software out there, claiming they can retrieve lost iPhone data. TogetherShare iPhone Data Recovery among them is strongly recommended to recover your lost data if you don't have a backup.
The tool can assist you in scanning your iPhone for lost data for free. You can also preview the found data before recovering it. The software can recover various types of data from the iPhone. For example, you can use this software to recover lost messages, contacts, call history, Notes, Reminders, Calendar, App chat history, and other data. If you deleted the data or lost data due to other issues, this software can assist you in recovering the lost data directly from the iPhone device.
Furthermore, the software is compatible with other types of iOS devices. This software can be used to recover iOS data from a device on various Windows operating systems, including Windows 7, 8, and 10.
Just follow these steps to recover deleted text messages on iPhone:
Step 1: First, download and install the tool on your PC.
Step 2: Now launch the tool and select the mode to scan for lost data, and choose to extract the lost data from your iTunes backup instead.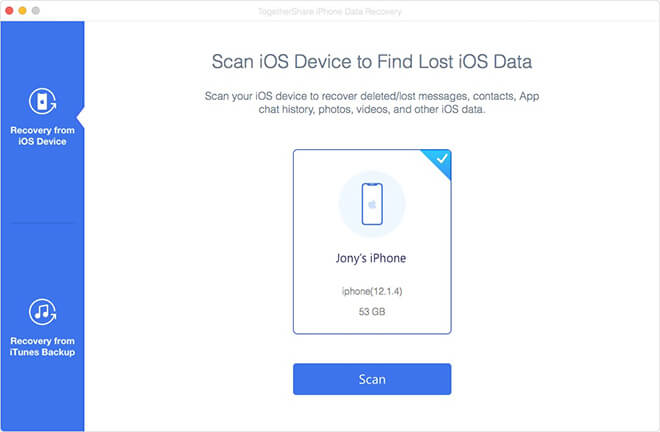 Step 3: Now select the correct iPhone backup. Once done, tap on "Scan" to continue.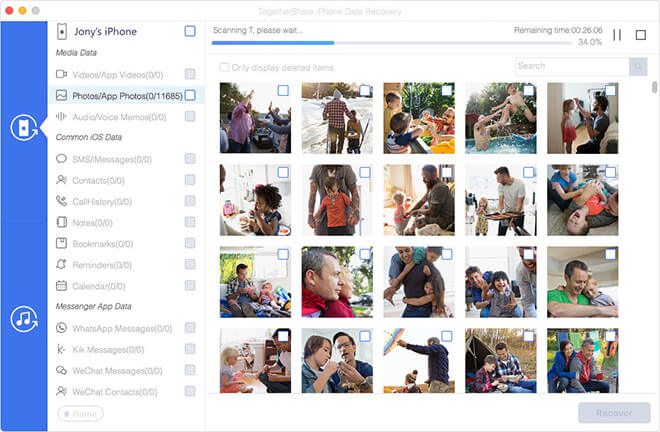 Step 4: When the scan is finished, it will display all of the found items. You can preview the data to see if the desired data was found. Then select the data to be recovered and save it to the computer.
The Final Verdict
After reading the article, it is clear that you must rely on reliable software that can help you in every way. TogetherShare iPhone Data Recovery is here to help. Being an easy-to-use solution saves you a lot of time, money, and, of course, the annoying task of recovering deleted text messages on your iPhone.
FAQs about iPhone Messages Recovery
1. Are deleted text messages gone forever?
Deleted text messages are not lost forever. In general, your iPhone's operating system assigns space known as units or clusters. They are used to store new files as soon as they are created. However, when a file is deleted, the operating system frees up space previously occupied by that file. It simply removes and makes the space available for reuse. As a result, if no data is saved in that space, the deleted file is still recoverable. However, if you save more data and overwrite the unallocated space, you will require a recovery tool to recover your files. As a result, do not save any additional data when attempting to recover deleted data.
2. How far back can text messages be recovered?
The recovery chance is less dependent on when you delete them and more dependent on whether they are overwritten. So, if you lose data on your device, you should stop using it. Another thing to keep in mind is that the messages you just deleted may not be considered abandoned data by the iPhone device. So, if you use a third-party data recovery tool to recover those deleted text messages, the software may not be able to scan them right away. However, it will be fine if you try again later.
3. Is it possible to only recover deleted text messages from an iCloud backup?
You can't selectively recover the deleted text messages by restoring them from iCloud backup. To recover from iCloud backup, you have to recover the whole backup. But for the easy job, you can recover the specific text messages through some data recovery tools.
TogetherShare iPhone Data Recovery
Easily recover lost data from iPhone, iPad, iPod touch, etc.