When you delete a file on your computer, the file won't just disappear. It will be marked as empty and waiting for overwritten in the disk. If you manage to start an retrieve process before Windows overwrites that space with new files, you could "Recover" the files. No matter delete or shift delete function, all of the deleting functions work in this way.
So how to recover the shift deleted files? There are two ways in genera.
---
Way 1. To recover shift deleted files with Micro Soft functions.
If you have a Windows backup, just recover the files from the backup, everything will be so easy.
But, if you don't have one, there will be more steps to get back the files which was shift deleted.
Step 1: Please remember where did you lost or shift deleted this file, for example, C:\ or D:\files\important files, this is the key. Then, create a new file which have just the same name of the file you have shit deleted.
Step 2:Right click the file, Click "Previous Versions" in the tab. You could find all the previous versions that Windows remembered automatically.
Step 3:Select the file depends on the "Data Modified", and click the "Restore" button. Then, you can have your shift deleted file back.
Way 2. Try TogetherShare Data Recovery Free
TogetherShare Data Recovery Free offers 100% safe data recovery solution for recovering lost data from hard drives and storage media devices. It offers quick scan and deep scan. The quick scan mode can quickly scan the hard drive/device and find recently deleted files. The deep scan mode will deeply scan the hard drive/device to find every recoverable file. What's the best, you could recover 1 GB data for free.
TogetherShare Data Recovery
Powerful & easy-to-use data recovery software
Step 1: Select the hard drive.
Choose the hard drive where the files are deleted.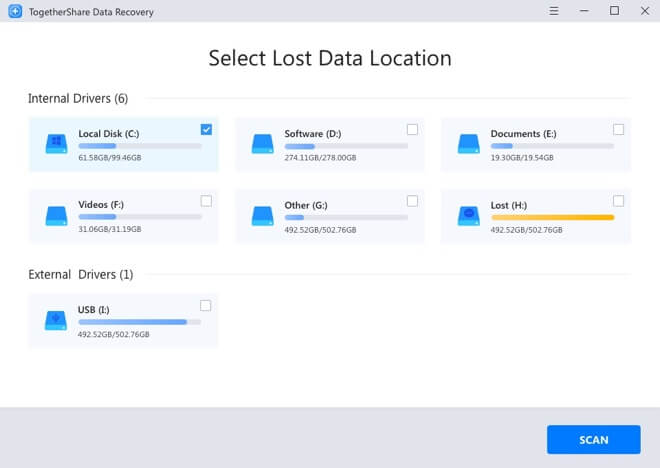 Step 2: Scan the hard drive.
Just select the hard drive or device where you lose your data. Then click on "Scan" button to scan the selected hard drive or device to find deleted files.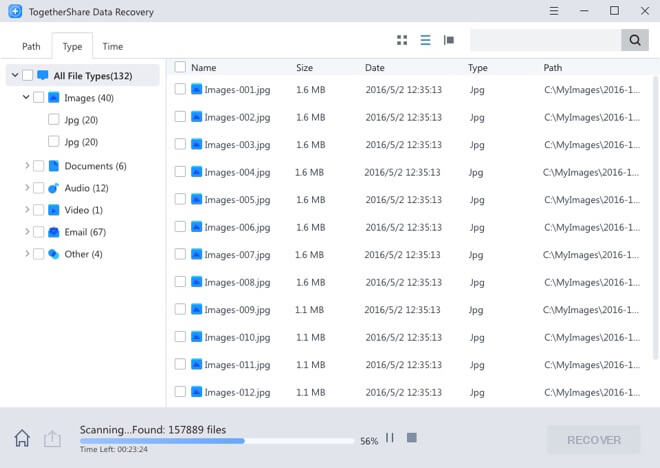 Tips:
TogetherShare Data Recovery Free can recover lost data from most types of hard drive and storage device. If you want to recover deleted files from USB flash drive, just connect the device with your computer.
Step 3: Preview and Recover the Files.
After scan, you can preview all the recoverable files and select out those you want. Then, click "Recover" button to get them back.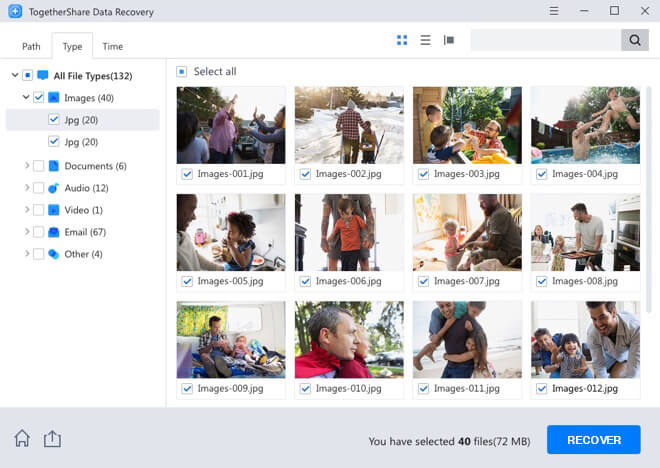 What's more?
By clicking Deep Scan button, our software will perform a new sector by sector scan, which will take longer than the first quick scan. Please be patient and do not interrupt it in the middle of the process if not necessary. It will help to recover deleted files on Windows.
TogetherShare Data Recovery
Powerful & easy-to-use data recovery software