What is SSD?
A solid-state drive (SSD) is a solid-state storage device that uses integrated circuit assemblies as memory to store data persistently. It is also sometimes called solid-state disk, although SSDs do not have physical disks. SSDs may use traditional hard disk drive (HDD) form-factors, protocols and file systems such as SATA and SAS, and NTFS or FAT32 greatly simplifying usage of SSDs in computers, or Form factors, file systems and interfaces designed for SSDs, like mSATA, m.2, u.2, NVMe, Ruler SSD, PCIe and APFS or F2FS, often greatly improving performance and removing unnecessary features like defragmentation which can improve performance on HDDs but reduce the lifespan of SSDs.
--Wikipedia
Is it possible to recover files from formatted 128 GB Toshiba SSD?
The answer is YES. As same as the data in HHD, data in SSD can be recovered too after the disk has been formatted. The reason is just the same as when you want to recover data from formatted hard drive. All the disks, including 128GB Toshiba SSD, have an address tables, formatting is not just "erase" the data. All the data will be marked as "Empty" in the address table. When you need to write the new data, the data will be overwritten. As long as the files are not overwritten, files can be recovered from formatted 128GB Toshiba SSD.
How to recover files from formatted 128GB Toshiba SSD?
TogetherShare Data Recovery Free offers 100% safe data recovery solution for recovering lost data from hard drives and storage media devices. It offers a quick scan and deep scan. The quick scan mode can quickly scan the hard drive/device and find recently deleted files. The deep scan mode will deeply scan the hard drive/device to find every recoverable file. What's the best, you could recover 1 GB data for free.
TogetherShare Data Recovery
Powerful & easy-to-use data recovery software
Step 1: Connect the Toshiba SSD to your computer.
TogetherShare Data Recovery Free will recognize and list the Toshiba SSD.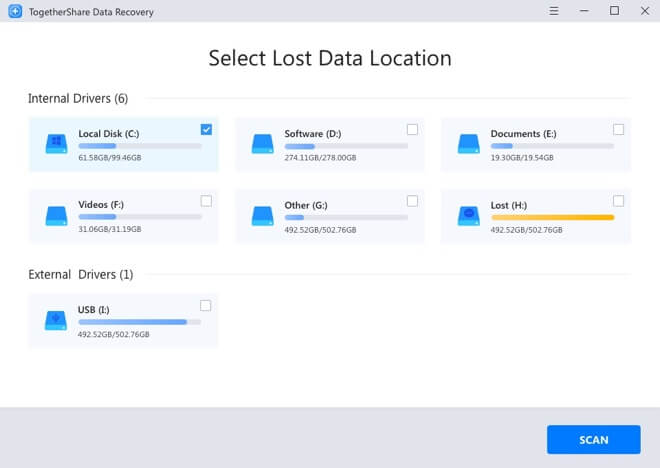 Step 2: Select a location to find deleted files.
Just select the Toshiba SSD which you have just formatted and want to recover files from. Then click on "Scan" button to scan this SSD and find the lost files.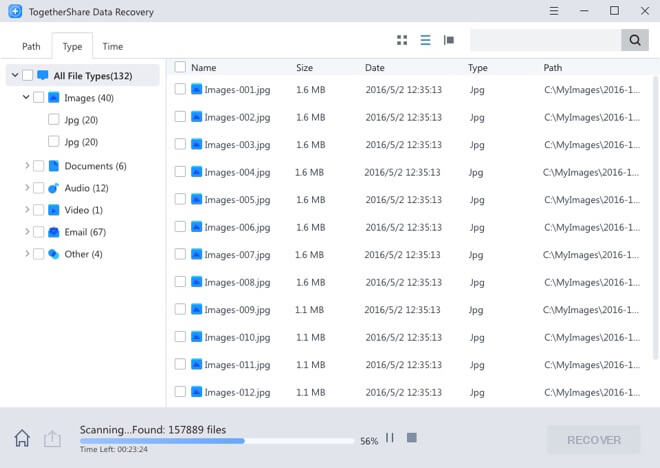 Tips: TogetherShare Data Recovery Free can recover lost data from most types of hard drive and storage device. If you want to recover deleted files from USB flash drive, just connect the device with your computer.
Step 3: Preview and Recover the Files.
After the scan, you can preview all the recoverable files and select out those you want. Then, click "Recover" button to get them back.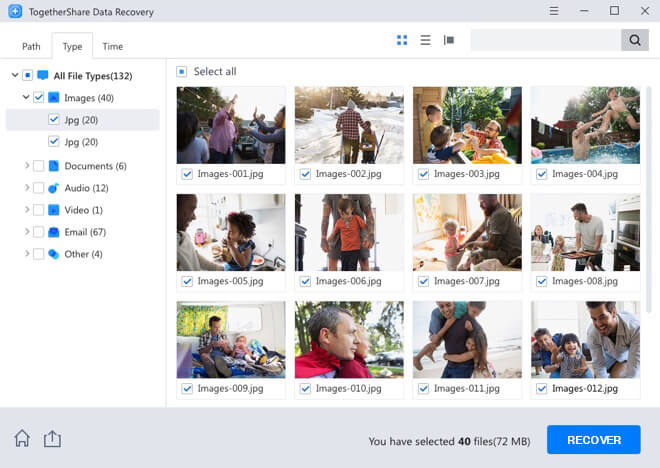 If you want to recover more files from Toshiba SSD, please try TogetherShare Data Recovery.
TogetherShare Data Recovery
Powerful & easy-to-use data recovery software