AVI is a common type of videos widely used on MP4 player, digital camera, camcorder and other handy devices. You may download digital films from internet in AVI format. You can also shoot AVI videos with your portable devices. The AVI videos are stored on users' computer, hard drive, SSD, memory card, USB key, MP4 player, or any other storage devices. Then users can load AVI videos from these devices to play in video players on computer or other devices.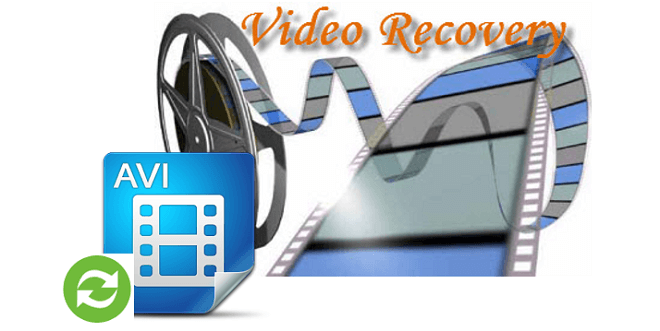 Sometimes, when you try to play the favorite films or your private videos but just find some of the videos are missing. It's because some of the AVI videos are deleted or lost by accidental. Mostly, if the AVI videos are important for you, you will want to recover deleted or lost AVI videos urgently. But before recovering the lost videos, you need to get a reliable video recovery software.
---
Download the effective AVI video recovery software
With a professional data recovery tool, users can then recover deleted or lost AVI videos with ease. TogetherShare Data Recovery is such a tool suggested for users. The software is able to recover deleted or lost AVI videos easily by using the advanced data recovery technology. Please first download the free trial to have a try.
TogetherShare Data Recovery
Powerful & easy-to-use data recovery software
The tool is able to recover deleted or lost AVI videos in different data loss cases. For example, it can recover lost AVI video files after deleting the data by mistake. Also, it supports data recovery for lost videos after drive formatting, partition deletion/loss, file system crash, operating system corruption, human error, or any other unknown problems.
Besides, the software can work for users to recover lost data in Windows 10, or other old versions of OS including Windows 8/7/Vista/XP. If you lost data on Mac machines, the software can also help you. It can help you recover lost files in macOS 10.15, 10.14, 10.13, 10.12, and so on. It also fully support data recovery for HFS/HFS+, APFS, ExFAT, ReFS, EXT2/3, NTFS, FAT16/32, and other files systems used in Windows and Mac systems.
---
How to recover deleted or lost AVI videos step by step?
TogetherShare video recovery software is understandable with intuitive interfaces. Any users can use the software without too much training. Just after the following steps to recover deleted or lost AVI videos with the software.
Step 1. Choose the drive.
Run the software first, then it will show all the connected drives on the computer. Please choose the one, which contains the lost AVI videos, and click the Scan button to start.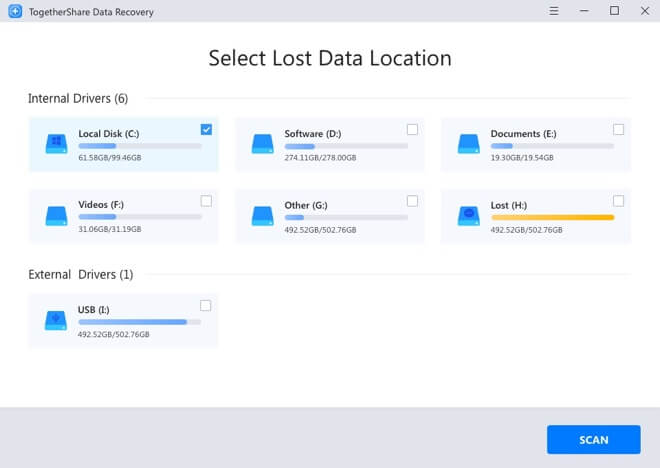 Step 2. Scan the drive.
During this step, the software will just scan the drive with different methods. It will search for all the possible deleted or lost AVI videos from the drive deeply.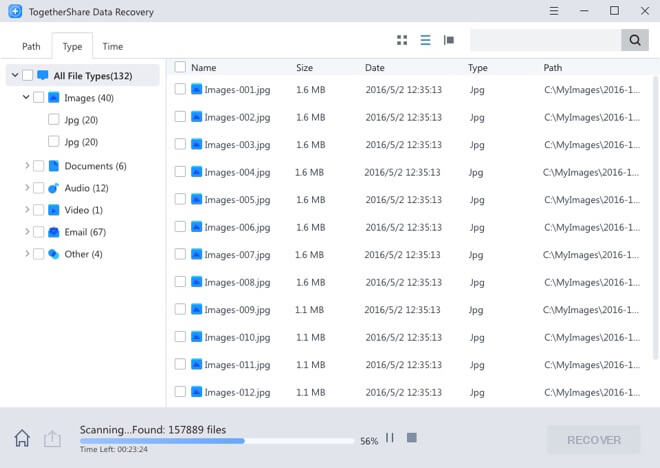 Step 3. Preview and recover.
After completing the scan process, the software will list all the found files. Please identify and locate the files by path or type first. Then preview and choose the wanted AVI videos to recover.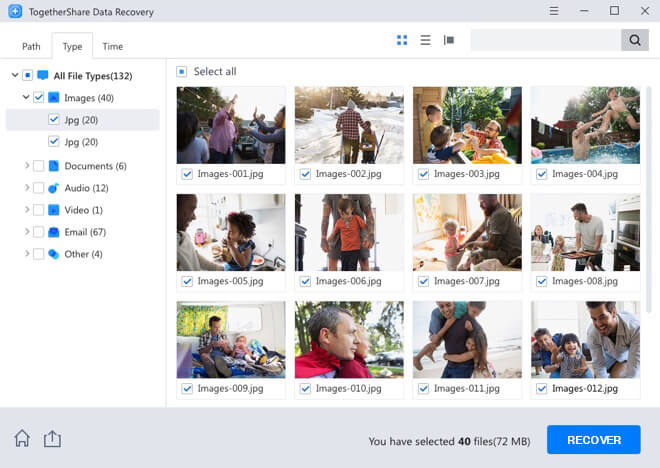 The easy-to-use and professional data recovery software TogetherShare Data Recovery is the best choice for users. Once data loss happens, please stop using the drive to avoid further data writing to the drive. Then download the software to salvage your lost files quickly.
TogetherShare Data Recovery
Powerful & easy-to-use data recovery software