If you lost data under macOS Catalina 10.15, there are many Mac data recovery tools available for you. However, the data recovery performance of some tools is not quite satisfying in macOS 10.15. In order to reduce the users' time searching for data recovery software, we have tested the most popular software and picked out the top 6 macOS Catalina 10.15 data recovery software. In this way, users can find a suitable data recovery solution and recover lost data as soon as possible.
We will introduce the 6 Mac data recovery software in detail, then you can check and find the desired software to achieve your goal. By comparing the recovery scan speed, data recovery quality, design, and more other features, you can distinguish and choose your favorite software based on your own needs.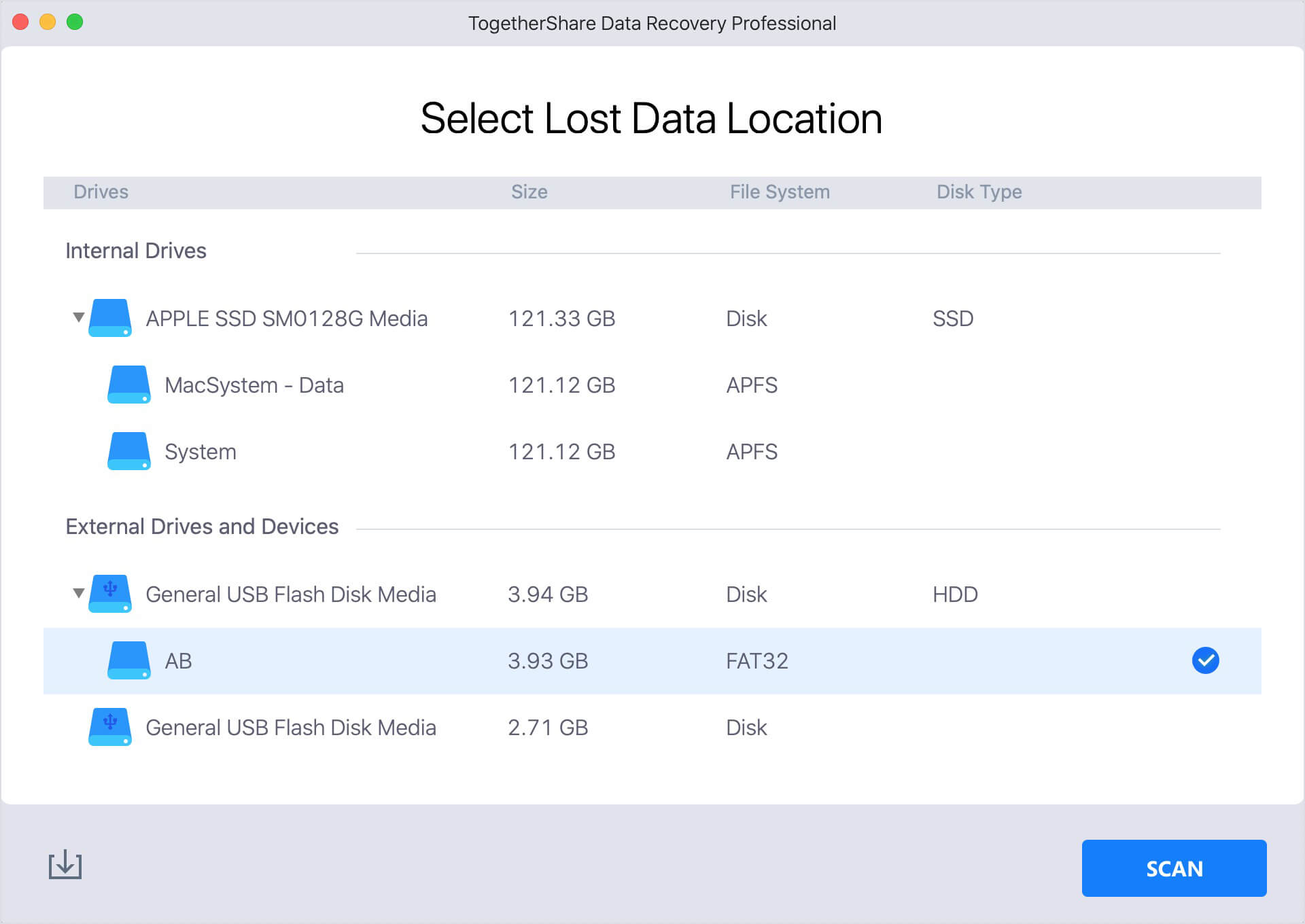 This software concentrates on data recovery quality. With comprehensive data recovery capability, TogetherShare mac data recovery software can recover lost data in different data loss scenarios:
Files are deleted by accidental and empty the Trash bin.
Volume becomes RAW/corrupted and cannot be accessed.
Drive is formatted wrongly and no backup for the data.
System crash, system upgrade failure, or other system issues.
Partition gets lost or deleted.
Virus infection or other software malfunction.
And some other data loss situations…
In addition, TogetherShare mac data recovery software supports all the popular used file types. Such as graphic/pictures, videos, audio files, documents, emails, archives, and other files.
It supports to recover data from HDD, SSD, memory card, external hard drive, SD card, digital camera, USB flash drive, etc. It can recover data from the drive/device with the file system APFS, HFS/HFS+, HFS X, FAT 16/32, EXFAT, NTFS.
Besides, this easy-to-use software is user-friendly with good user experience. First, it's simple enough for any users. No too many computer skills required, any users can use the software to recover data easily. Second, the interaction is understandable, so you don't need to worry about that it would be complex to perform data recovery with it.
What's more, it's affordable for users. With the best price, you can recover lost data in good quality and fast speed. With the trial version, you can also preview the found files before performing actual data recovery. It can recover lost data in different Mac operating systems, ranging from 10.17 to the latest macOS Catalina 10.15.
TogetherShare Data Recovery for Mac
Powerful & easy-to-use data recovery software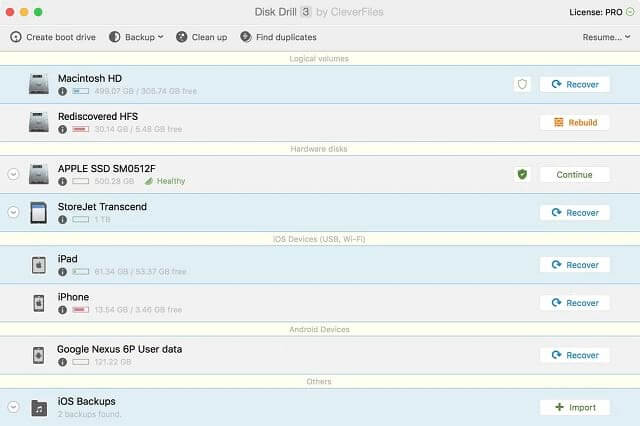 Disk Drill is also a powerful and full-featured data recovery application. It is a complete data recovery package that is designed to recover deleted or lost data from your Mac internal drives as well as external devices, such as external hard drives, flash drives, memory cards.
In addition to its data recovery capabilities, Disk Drill offers users some other features for users. Such as Recovery Vault and Guaranteed Recovery is additional features which would be useful for some users.
Disk Drill can recognize and recovery more than most file types that might reside on your Mac machine. This includes photos, videos, documents, and others. The application runs on Mac OS X 10.8 or later and offers users an intuitive interface that allows you to select the file types and recovery location for your files.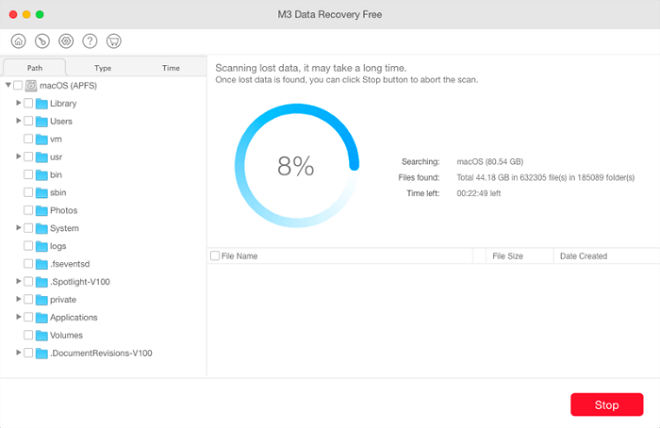 M3 Mac Data Recovery application runs on Mac computers running OS 10.7 through the newest version of Catalina. The program recognizes a wide variety of file types and file systems including encrypted APFS partitions.
Using this Mac data recovery tools you can recover data from any storage device that is compatible with your Mac computer. The tool has the ability to recover deleted files from an emptied Trash, recover lost files from deleted/formatted logical volumes. Before recovering found lost files, you can check the integrity of the files by previewing them.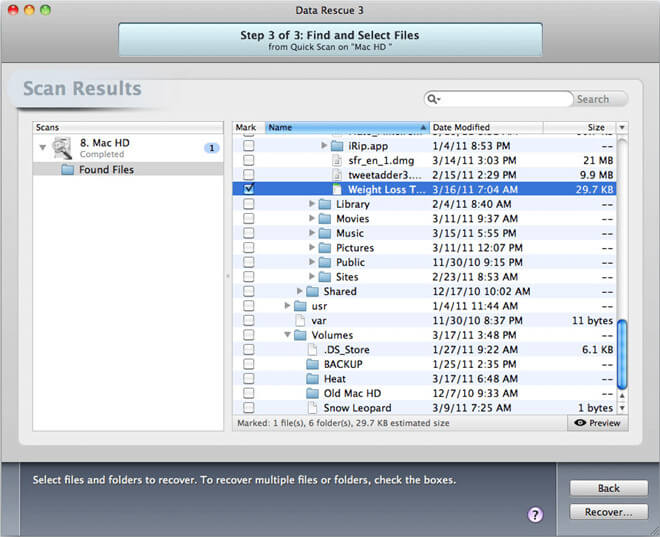 Data Rescue is a powerful and simple tool. It's easy to recover data with intuitive user-interface. It can recover data from your internal hard drives, external drives, SSD, memory card and other removable storage devie. It has a very useful feature to eliminate the duplicate files, it would be userful in some cases if there are too many dupliated files found.
Preview is available before starting the actual data recovery. Also, it's able to identify duplicated files. But this tool is expensive than most competitors.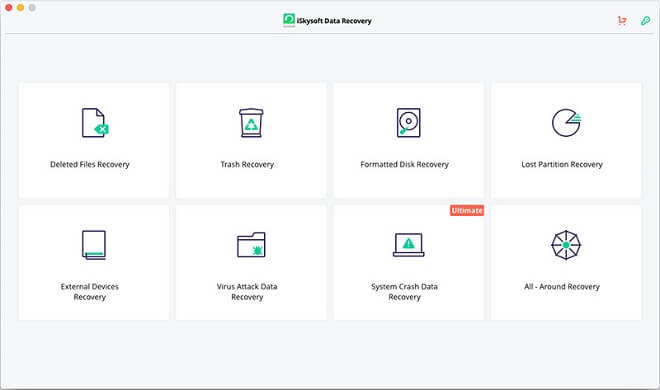 iSkysoft Data Recovery supports any type of storage device that uses the NTFS, FAT16, FAT32 or exFAT file systems. The product supports the operating systems from OS X 10.5 to the newest version macOS 10.15. You can use this powerful program to recover photos, documents, music files, and other files found on Mac.
This software also offers you the preview feature so you can check the files before recovery. It can ensure that you don't waste time retrieving the unrecoverable files. The user interface presents your file trees so it's easy to locate the file you wanted. The intuitive user interface makes file recovery simple. You can download a trial version to test the product and preview the data. However, it's slower than average scan and recovery speeds compared to other tools.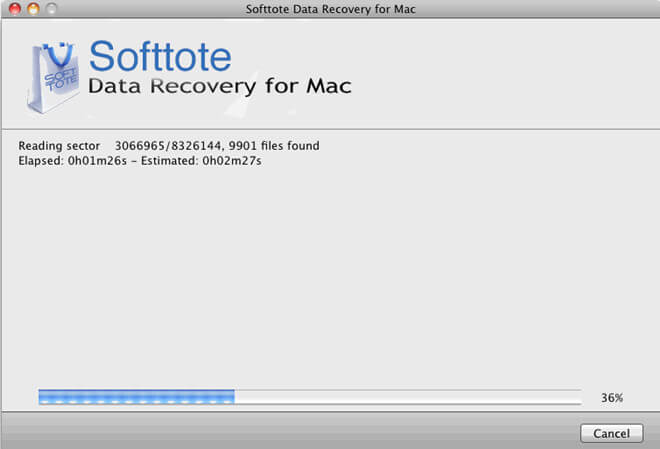 This data recovery program can work with the Mac operating system from version Mac OS X10.6 to macOS 10.15. With this tool, you can restore files from NTFS, HFS, and HFS+ volumes. It's able to recover deleted files, recover files from damaged or corrupted drives. Also, it supports many different types of file formats.
You can change the pre-scan filter settings before the scan process to shorten the scanning time. Also, there are some modes for user to select, such as "File Recovery", "Photo Recovery" and "Lost Partition Recovery". Of course, if you cannot remember how you lost or what you lost, it would be somehow very confused.
---
Tips for users to choose the proper data recovery software for macOS 10.15
1. Please first confirm what is the goal you want to achieve with the product. If you only want to recover the lost data, you need to consider is the other features needed for you. Don't be interfered by some additional functions.
2. If the data recovery software is simple and understandable enough for you. If you need to waste too much time to learn how to use a data recovery tool, it would not be suitable for you and would cause further issues.
3. Consider the price and performance. Don't waste money and time on some software that would not works and would cause damage to your lost data.
In general, the software for users should be effective in data recovery. It should be easy to use and affordable for users. TogetherShare Data Recovery for Mac is such a data recovery software for macOS Catalina 10.15.
---
Steps to use TogetherShare Data Recovery to recover lost data in macOS Catalina
TogetherShare Data Recovery for Mac is very easy-to-use. It can securely and easily recover deleted, formatted, inaccessible, corrupted and lost data from hard disk drive or any other device under Mac OS Catalina.
Step 1: Download TogetherShare Data Recovery for Mac.
First of all, just download this macOS Catalina data recovery software and install it on your Mac.
TogetherShare Data Recovery for Mac
Powerful & easy-to-use data recovery software
Step 2: Choose the hard drive.
Choose the hard drive or device where your data is lost. TogetherShare Data Recovery for Mac is able to recover lost data from any HDD/SSD, USB flash drive, memory card, camera, storage device, etc.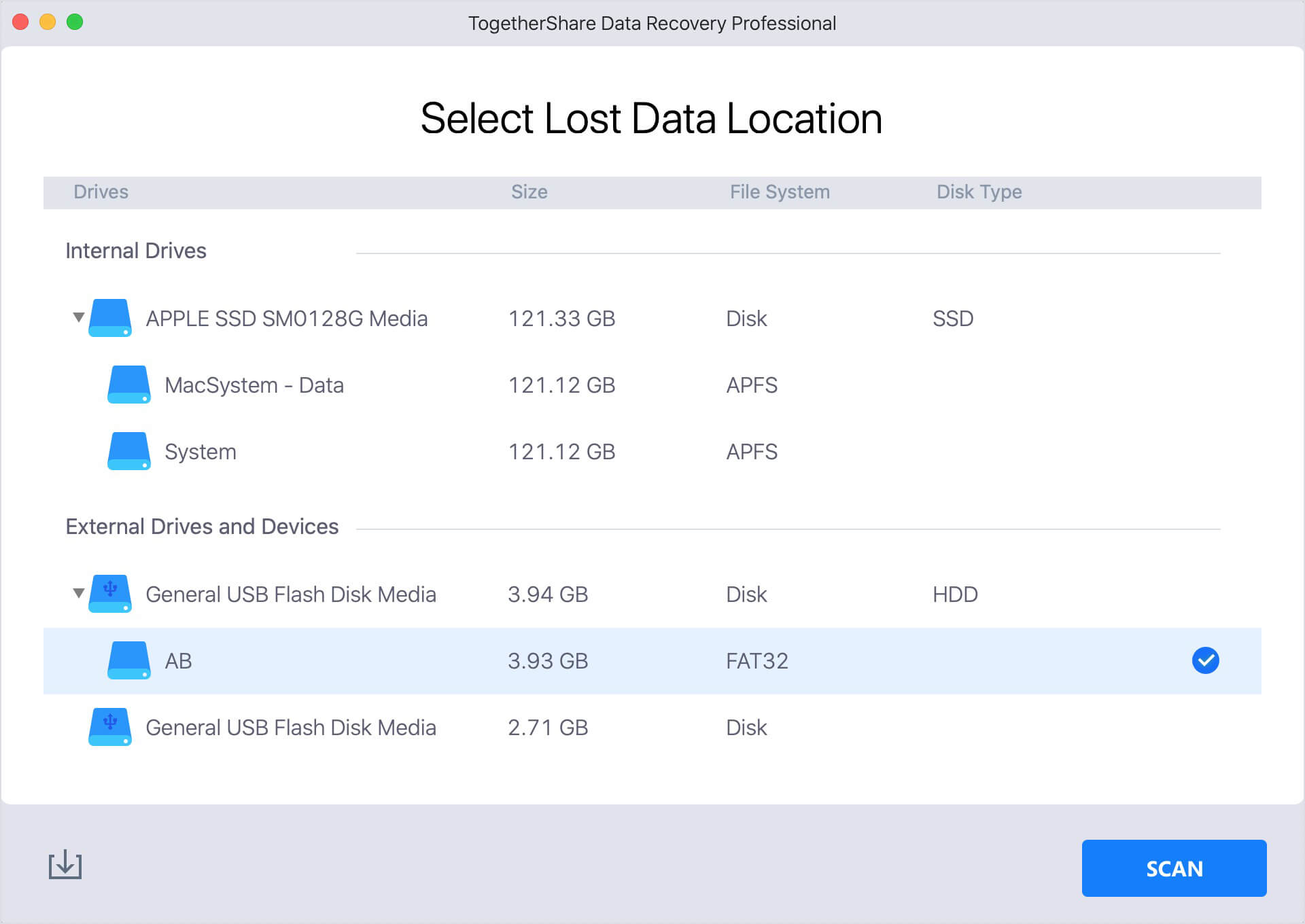 Step 3: Scan the hard drive.
After choosing the hard drive, just click on "Scan" button to scan the hard drive. This software offers advanced technology to find every recoverable file on the hard drive.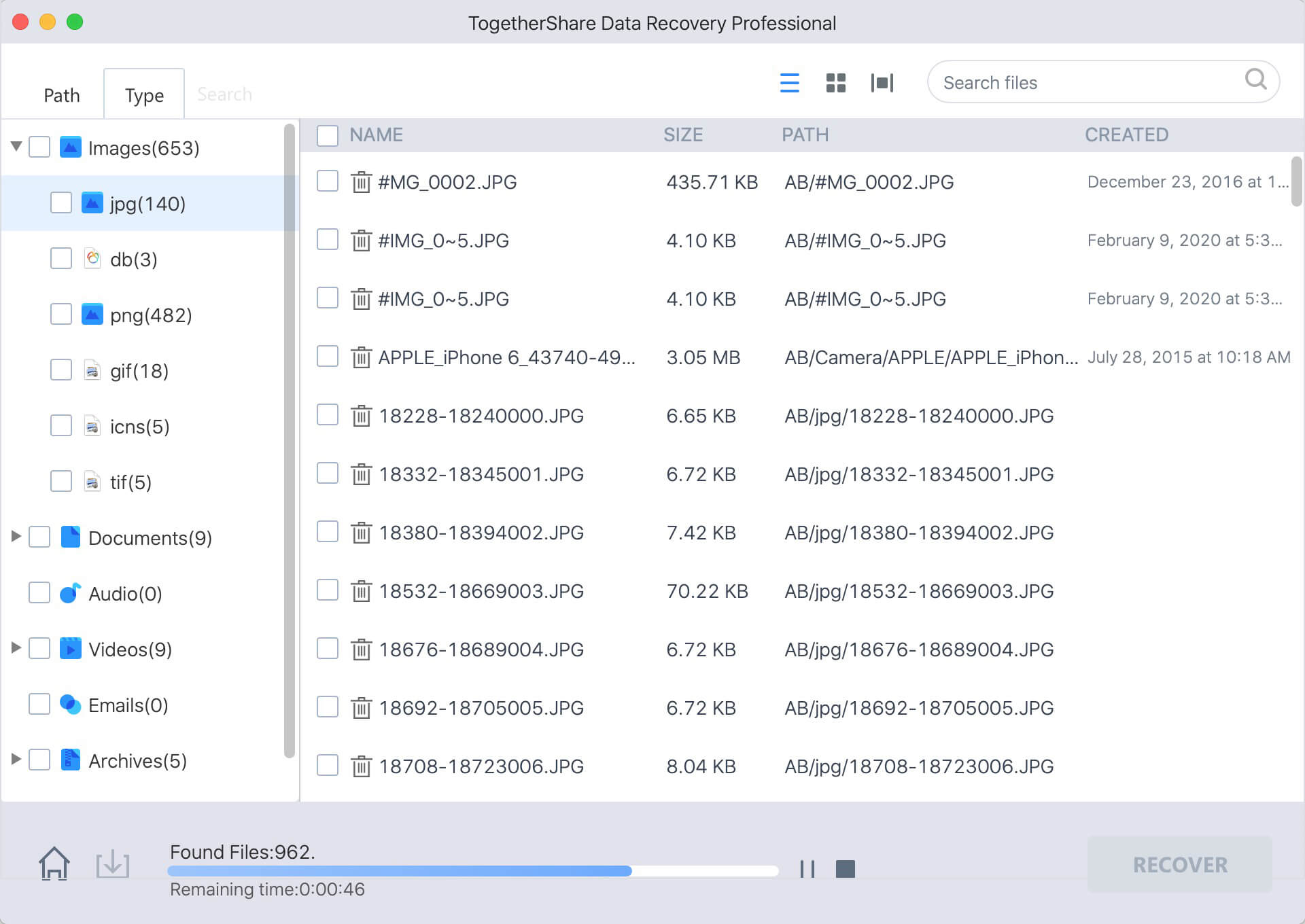 Step 4: Preview and recover lost files.
After scanning, it shows all recoverable files. Then you can preview these files. Choose the wanted files and save them to a safe location.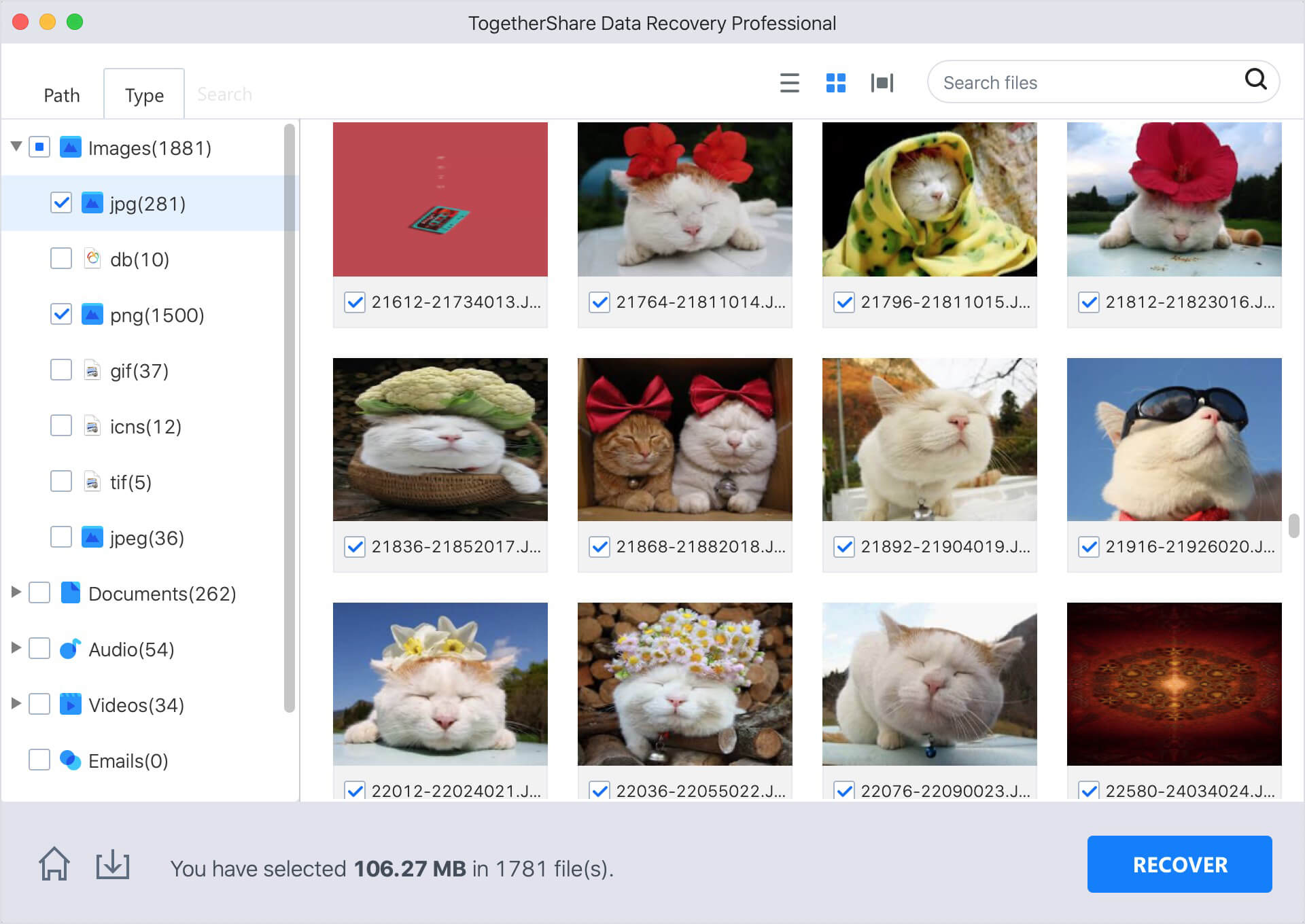 As you've seen, TogetherShare Data Recovery for Mac can help you quickly and easily recover lost data under macOS Catalina. It also can recover lost data in other macOS versions.