YouTube is the most popular video-streaming website on the Internet. The online video platform, which debuted in 2005, offers a wide range of content, including TV clips, educational videos, music and gaming videos, entertainment, and much more.
When streaming videos online, a slow internet connection can cause issues. You may download videos from YouTube to your computer or smartphone using a YouTube video downloader app. This way, you may watch videos at your leisure without dealing with the annoying buffering icon.
Here we have handpicked the best YouTube video downloader; we will review applications along with features. So, dive in and get familiarized with all the best youtube video downloaders!
1) SnapDownloader
It is one of the best video downloaders for Windows and macOS, allowing you to quickly download videos in high quality. It can download videos at high speed and supports over 900 websites.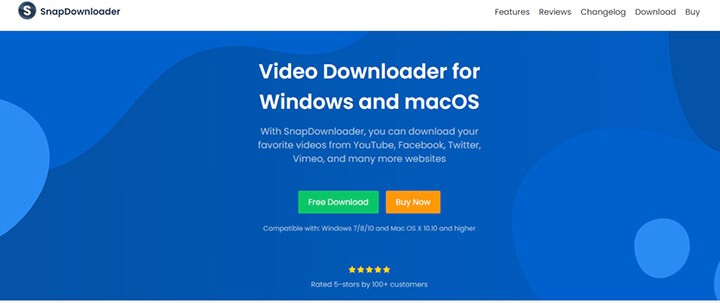 SnapDownloader allows you to easily download videos in 8K, 4K, 1080p HD, 720p, and other resolutions and convert them to MP4 or MP3 format. The most excellent part about this software is that it is effortless to use and does not require any technical knowledge.
Key Features:
Windows and macOS are supported.
Download videos in high quality and various formats.
YouTube playlists, channels, 3D, and VR content can all be downloaded.
Download numerous videos from different websites at the same time.
Quick download speed.
Convert videos to MP4 or MP3 format quickly and easily.
A user-friendly UI makes it simple to use.
2) YTD Video Downloader
YTD Video Downloader is another wonderful option for downloading youtube videos to your PC. When you start YTD Video Downloader, you will see both the basic and pro versions, as well as a detailed comparison of both. The videos can't be downloaded simultaneously in the free version; you have to sit and wait for one to finish before moving on to the next.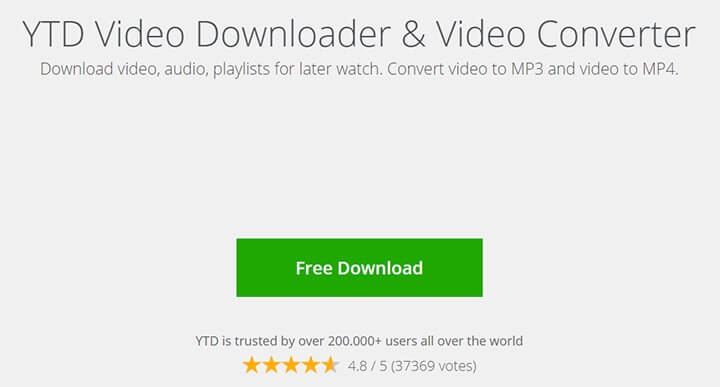 Keep in mind that if there is no 1080P choice, it implies that the video's highest resolution is lower, and 1080P quality is not available for this movie. However, when it comes to downloading videos in full 1080P HD on PC, YTD performs admirably – an excellent tool.
Key Features:
Download videos from over 50 different websites.
Popular formats supported include 3gp, Avi, Flv, MOV, mp3, mp4, and WMV.
3) YouTube By Click
If you wish to download videos on your old Windows PC, it can be challenging to locate a compatible application, but YouTube By Click is one you should not overlook. This software is compatible with both 32-bit and 64-bit platforms, and it can let you download videos from a variety of video sites, including YouTube, Vimeo, Facebook, Instagram, and Dailymotion. As the name implies, it can download the entire YouTube playlist & channel videos in bulk with a single click at a rapid speed, eliminating the need to select videos one by one.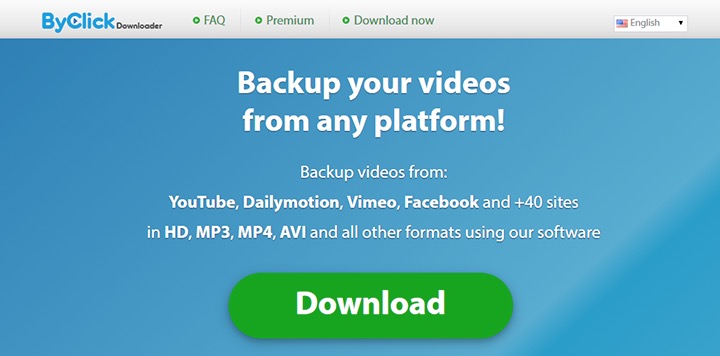 The app comes in two versions: a free, feature-limited edition and a paid one. The commercial edition allows you to download limitless videos, download very long HD & UHD videos (even longer than 1 hour), and extract subtitles if available. It also has many other features, such as downloading dozens of videos at once, obtaining private YouTube and Facebook videos, etc.
Key Features:
By Click Downloader allows you to save videos from over 40 websites.
It allows you to download videos in various formats, including HD, MP3, MP4, AVI, and others.
It has an option that allows you to download YouTube playlists and channels.
4) WinX YouTube Downloader
WinX YouTube Downloader can download videos from the most popular sites, including Facebook, Vimeo, and DailyMotion. It's incredibly simple to use. Simply enter a URL, choose an output format, and pick the quality level, and it will be added to the current batch.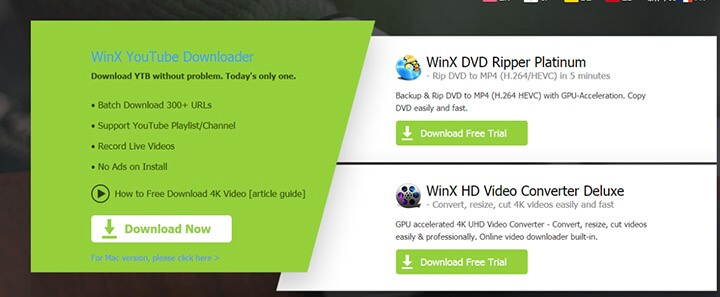 Once you've added all of the videos you wish to download, simply click the 'Download' button, and they'll all be processed at once and saved to the folder of your choice.
WinX YouTube Downloader can download high-quality video when it is available; however, it falls short of 4K Video Downloader in that it cannot download 3D or 360-degree videos. If this isn't an issue, this free YouTube downloader is highly recommended.
Key Features:
Download videos in MP4, 3GP, MKV, FLV, MOV, WMV, AVI formats.
Download videos from YouTube, Facebook, Twitter, and thousands of other websites.
The best and fastest video downloading speed is enabled by GPU acceleration technology.
5) 4K Video Downloader
4K Video Downloader is a simple and easy-to-use application that only allows you to download videos. 4k Video Downloader offers an intelligent mode; once activated, you may download a video with a single click, which should save you a lot of time. Another noteworthy aspect of the 4K video downloader is its multilingual and cross-platform capability; it has Windows, Mac, and Linux versions and supports languages such as German, French, Spanish, Japanese, and many others.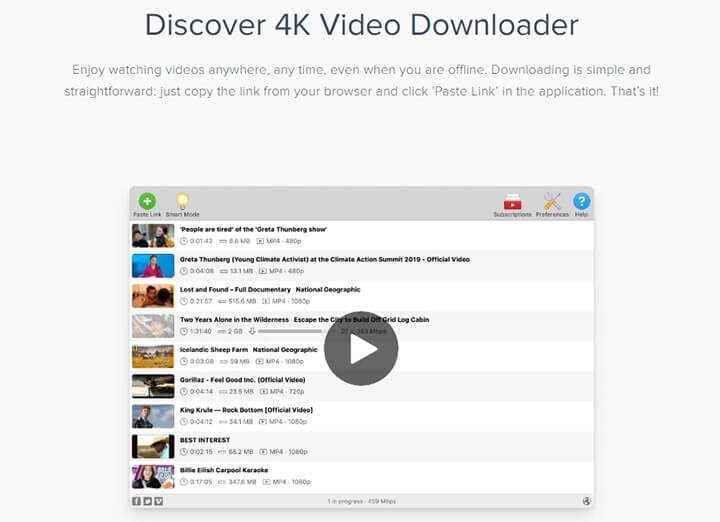 Most people will think of the 4K Video Downloader as freeware, although it does have commercial features. The commercial edition allows users to download a YouTube playlist with more than 25 videos at once, or you can subscribe to a YouTube channel to quickly download the most recent video when the YouTuber uploads a new one. However, for the majority of individuals, the free version will suffice.
Key Features:
New videos from your YouTube channels can be automatically downloaded.
You will be able to download annotations and subtitles for YouTube videos. It supports 50 languages for this purpose.
It can play a variety of music and video formats.
The Bottom Line
Now that we've shown you the best YouTube video downloader in 2021, including both free and paid options. We have highlighted quick and high-quality tools. Now we'd want to hear from you. What do you think about this list? If you've just discovered an excellent tool for quickly saving YouTube videos, please let us know in the comments section below.
Frequently Asked Questions
1. Why use a YouTube Video Downloader?
YouTube videos cannot be downloaded directly. With the Video Downloader program, you can download YouTube videos directly from the internet platform to your PC or mobile device. Some apps also allow you to download videos from websites such as Facebook, Vimeo, and Dailymotion.
2. What are the key features of a Video Download Application?
The primary function of video downloader software is to download videos from video streaming websites. Some video downloading software additionally includes advanced functions, such as the ones listed below:
Set the encoder rate, resolution, and output size to compress videos.
Set a download speed limit.
Playlists can be saved.
Save videos to online storage services like Google Drive, OneDrive, or Dropbox.
Email videos to your own or someone else's account.
3. How to save videos from YouTube to your phone?
To utilize a video downloader app, paste the video's URL into the search bar. That's all. The app will analyze the video and allow you to save it to a specific folder on your phone or computer.
4. What Video Download Applications support formats?
Video download software allows you to store videos in a variety of formats. You can save videos in various formats, including MP4, AVI, FLV, 3GP, WMV, MOV, and others. Moreover, You can also specify the application to extract audio and save the file in MP3 or WAV format.
5. Is it safe to use YouTube Video Downloader?
Downloading videos with video downloader applications is usually safe. Some apps, on the other hand, might be infected with malware. If you're going to download videos, be sure you're doing it from a reputable site. The applications described in this review have been thoroughly tested and are entirely safe to download videos online.