Digital camera always save the photos on memory card in raw format. There are different type of raw photos for digital cameras. Some examples of raw image formats include Canon's CR2 and CRW, Adobe's DNG, Nikon's NEF, Olympus' ORF, Sony's ARW, Panasonic's RW2, and Fuji's RAF file formats. There are also many others types of raw photos for other brands of digital cameras.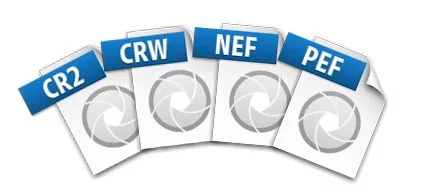 In some cases, camera users will lose the raw photos on camera accidentally. However, raw format of photos are different from the other common pictures, so if you lose raw photos in some cases, you need a specified photo recovery software for raw photo recovery from camera.
---
Best tool for raw photo recovery from camera
There are many photo recovery software in the market. But for camera users, it's hard to find a reliable raw photo recovery tool. Also, there are different type of digital cameras with different type of raw types. A comprehensive data recovery software is needed for raw photo recovery from camera.
We suggest the best data recovery software for camera raw photos - TogetherShare Data Recovery. It can help you recover raw photos in different data loss cases. For instance, It can recover deleted raw photos, or recover lost raw photos from camera due to memory card format, file system of memory card become damaged, corrupted or inaccessible.
Besides, the software can recover different types of raw photos from camera. It can recover 3fr, arw, srf, sr2, bay, crw, cr2, cr3, dcs, dcr, drf, k25, kdc, dng, erf, fff, gpr, nef, nrw, orf, pef, ptx, raf, raw, rw2, rwl , srw, and other raw photos.
The software is available both Windows and Mac users. So you can download download the software here to recover raw photos from camera no matter you want to perform data recovery on Windows and Mac machines.
TogetherShare Data Recovery
Powerful & easy-to-use data recovery software
3 steps for raw photo recovery from camera
TogetherShare Data Recovery is a very simple tool. It's not very complex for users even for a novice without too many computer skills. Especially for a home user, a reliable but simple data recover software is more proper. This software is such a tool works for both professional or home users. You can recover raw photo from camera with only 3 steps using this software.
Here I will show you the simple guide about how to recover raw photos from camera with TogetherShare camera data recovery software step by step.
Step 1. Select the memory card of camera.
Connect the memory card of camera to the computer with a card reader. Run the camera data recovery software, select the memory card from the software and click the Scan button.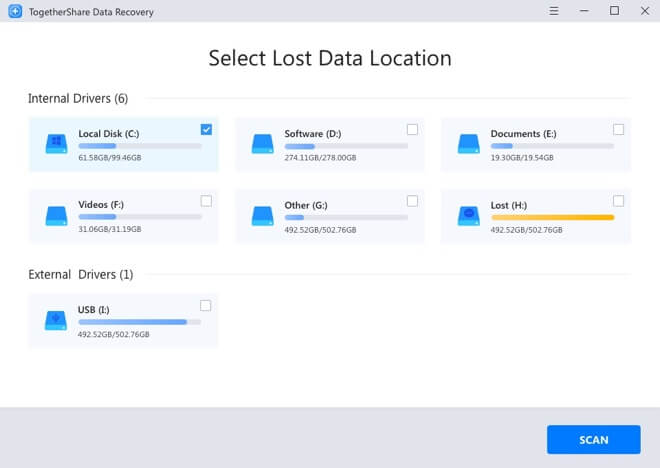 Step 2. Scan the memory card of camera.
The software will scan the camera memory card and deeply search for the lost raw photos from the card. It will not take too much time to scan and you can just wait patiently.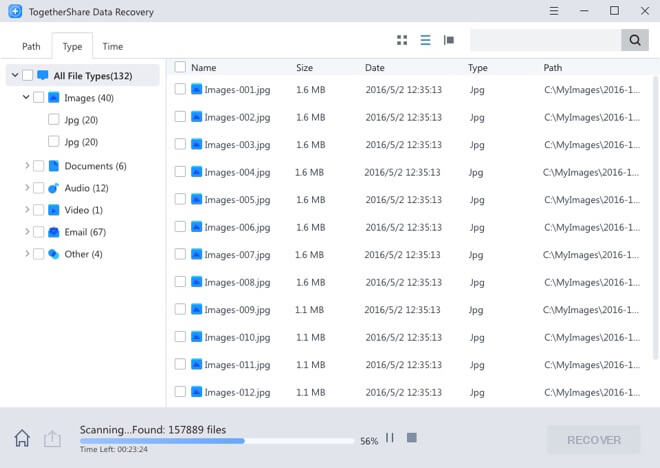 Step 3. Preview and recover raw photos.
After scanning, the software will display all the found raw photos. You can check and preview the raw photos first, and then select all the wanted raw photos to recover.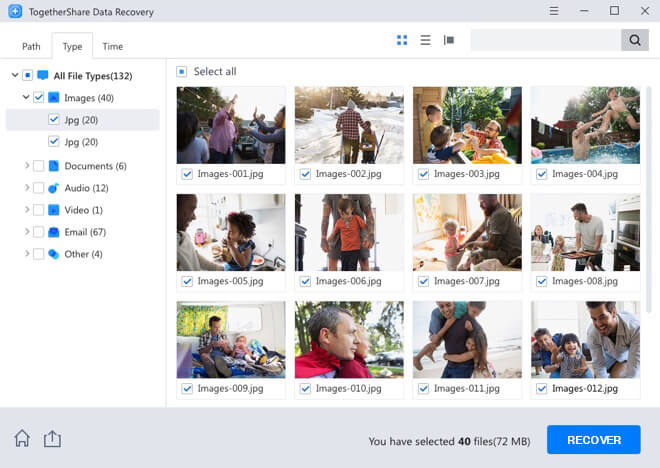 At last, the software is also able to recover lost files from other data storage media, such as hard drive, SSD, USB flash drive, and so on. Besides, it can not only recover lost photos, but also recover videos, documents, audio files, emails, archives, and other files. If you lose data unfortunately from any digital devices in different data loss scenarios, just download the software to get back you lost files easily.
TogetherShare Data Recovery
Powerful & easy-to-use data recovery software