Digital cameras are commonly used products for most families. Digital cameras mostly use memory cards as the storage medium. Memory cards are widely used as it's portable and easy to transfer data. But because of overuse, file system crash, human error or any other reasons, the data on the digital camera cards would get lost in some situations. In such cases, we need a reliable solution to get the lost data back. A capable data recovery tool is the first choice for most owners of digital camera cards.
---
Download the freeware for digital camera card
Among numerous data recovery tools in the market, there is a powerful and free digital camera card data recovery software – Togethershare Data Recovery Free. It's free to recover your lost videos, photos, audio files and other files from your camera memory cards. It's really worthy to download and have a try with this memory card data recovery freeware.
TogetherShare Data Recovery
Powerful & easy-to-use data recovery software
With top-leading data recovery technology, this free memory card data recovery software is capable of recovering lost or deleted files in most data loss scenarios. In addition, different types of digital camera cards are supported, such as SanDisk, Lexar, Kingston, Sony, Samsung, and others.
---
Why are the lost files recoverable on digital camera card?
Although data recovery is not always possible, there is no problem to recover the lost data in most cases. If there are physical errors and hardware issues with a digital camera card, it would not be able to recover the lost data from it with any software. But for other situations, there is a high chance to get the lost data back with TogetherShare free digital camera card data recovery software.
If you deleted data from memory cards of digital cameras or formatted the cards, most digital cameras do not wipe the data completely. Actually, it may only remove the file entries, but the file data may still remain untouched. So it is possible for TogetherShare card data recovery tool to scan and restore the deleted files, or lost files due to format on the memory card of the camera.
Also, if the file system of the digital camera cards were damaged or corrupted, lost data recovery may still be possible. TogetherShare Data Recovery Free bypasses the file system on the digital camera card and rescue lost files with deep scan. It will search the card sector by sector with RAW recovery method. In most cases, it is able to retrieve the lost files from a digital camera card.
---
How to recover the lost data from digital camera card?
It is no exaggeration to say, TogetherShare data recovery software is as easy to use as opening a bottle of water. You only need 3 simple steps to recover the lost data from a digital camera card. No professional technology needed, just a few clicks needed, you can retrieve the lost or deleted files. Now let's go ahead and start the recovery step by step.
Step 1. Select the digital camera card.
Unplug the card from the digital camera, connect it to the computer via a card reader. After running the product, you will see the card, just select it and click the Scan button.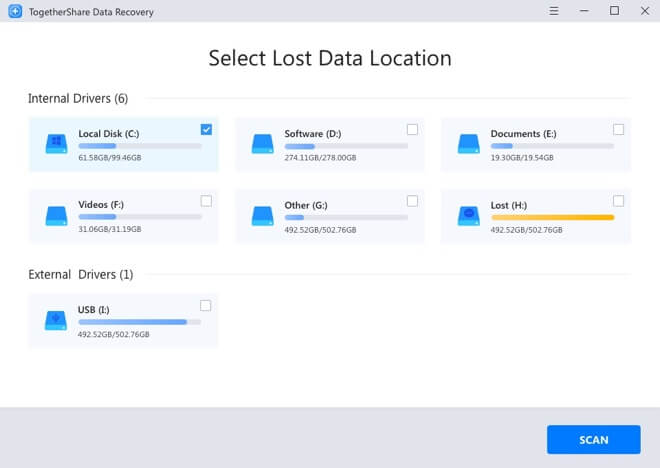 Step 2. Scan the digital camera card.
This free digital camera card data recovery software will scan the card to search the lost files. It's able to pause or stop the scan if the wanted files are found before the scan is completed.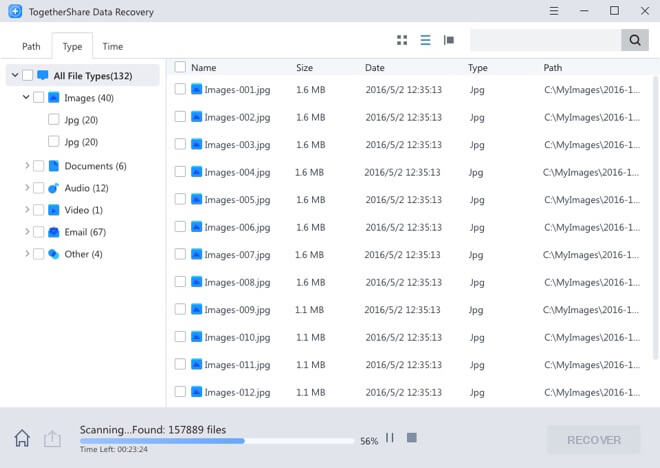 Step 3. Preview and recover data from the digital camera card.
Once the scan is finished, the files found from the digital camera card will be displayed in the software. Preview the files by double click, then select the recoverable and needed files to recover.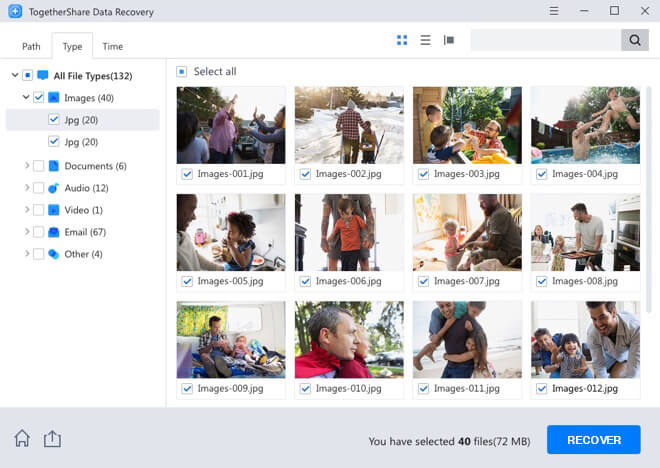 With this data recovery freeware, you can also recover the data from any other kind of storage devices for free. Hard disk drive, SSD, SD card, memory card, USB flash drive and other storage devices are supported. It's free to download and try with TogetherShare Data Recovery utility.
TogetherShare Data Recovery
Powerful & easy-to-use data recovery software