If you deleted important data unintentionally on macOS Catalina, you would be anxious and want to recover the deleted files urgently. After deleting files, especially on the system drive, you should take action to recover the files. The sooner, the better. Otherwise, the deleted files would be overwritten and damaged by the newly added or system produced data. Therefore, it would be hard to recover the deleted files completely.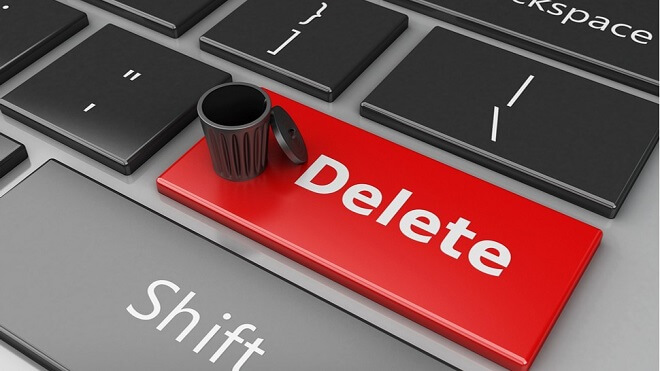 Is there an affordable and effective solution? Of course, there is. TogetherShare Data Recovery for Mac Free is the most recommended free deleted file recovery software for macOS Catalina. TogetherShare has established a good reputation in the Mac data recovery industry with fast speed, solid capability, and user-friendly UI. Therefore, you can use this tool to recover your deleted files easily and fast on macOS Catalina.
---
How to recover deleted files with TogetherShare Mac data recovery tool for macOS Catalina?
After deleting files, please cease all use of the drive where you deleted the files. It can protect the lost files from overwriting and damaging by newly added data or any other changes. Then download the free Mac data recovery software and install it on your Mac computer with macOS Catalina.
TogetherShare Data Recovery for Mac
Powerful & easy-to-use data recovery software
Run the free Mac data recovery application from the Launchpad, then go ahead as the following steps to recover deleted files from macOS Catalina. It would be very quick and easy to restore the lost files with this application. Now, let's keep on to perform the deleted file recovery.
Step 1. Choose the drive where you deleted or lost files.
If you deleted files from a drive on macOS Catalina, please ensure to select the right drive to scan. You need to click the Scan button to continue.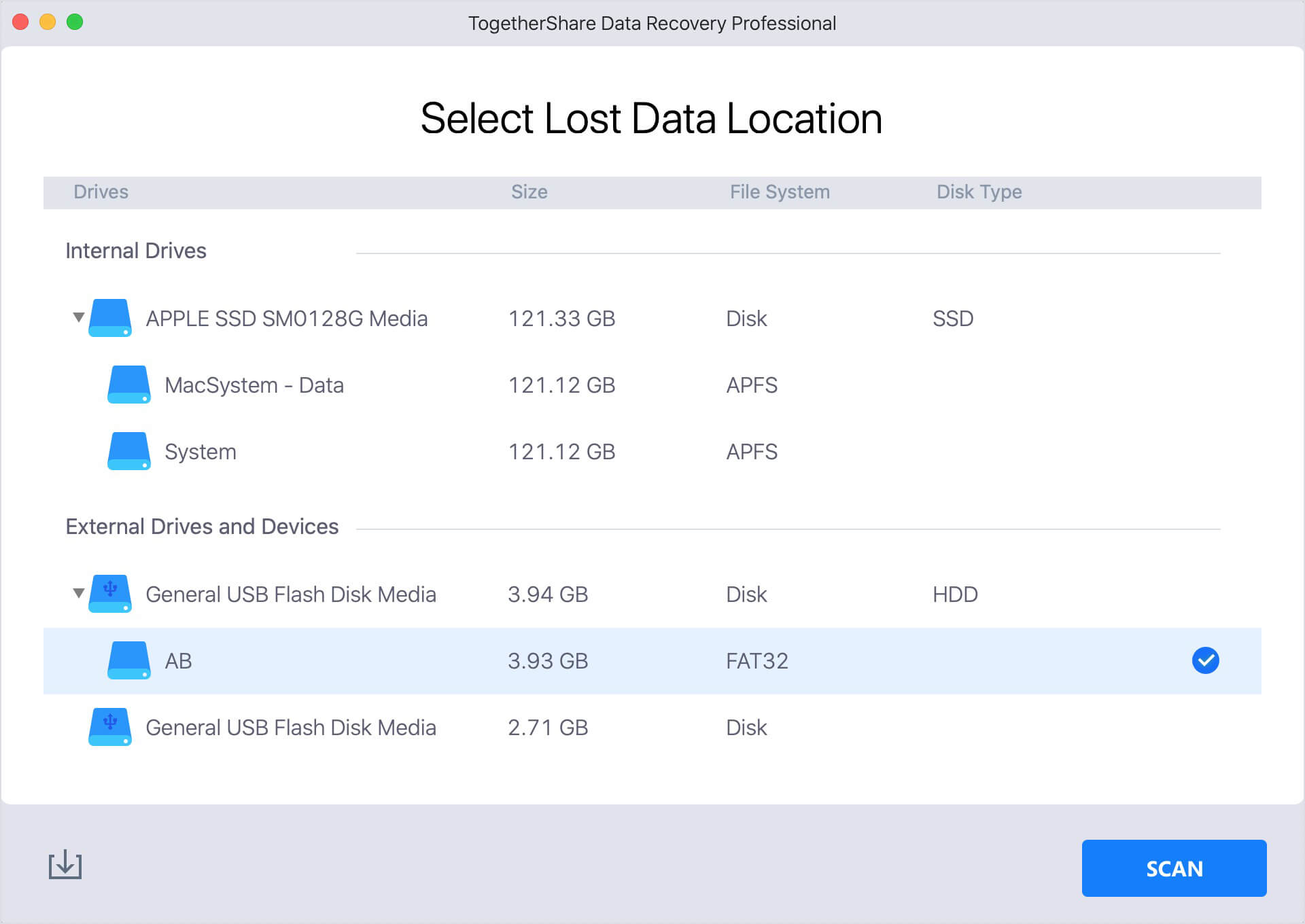 Step 2. Scan the drive to search for lost data.
After selecting the drive to scan, our product will then scan the drive with different methods. It can ensure to search for and find all the deleted or lost files for you.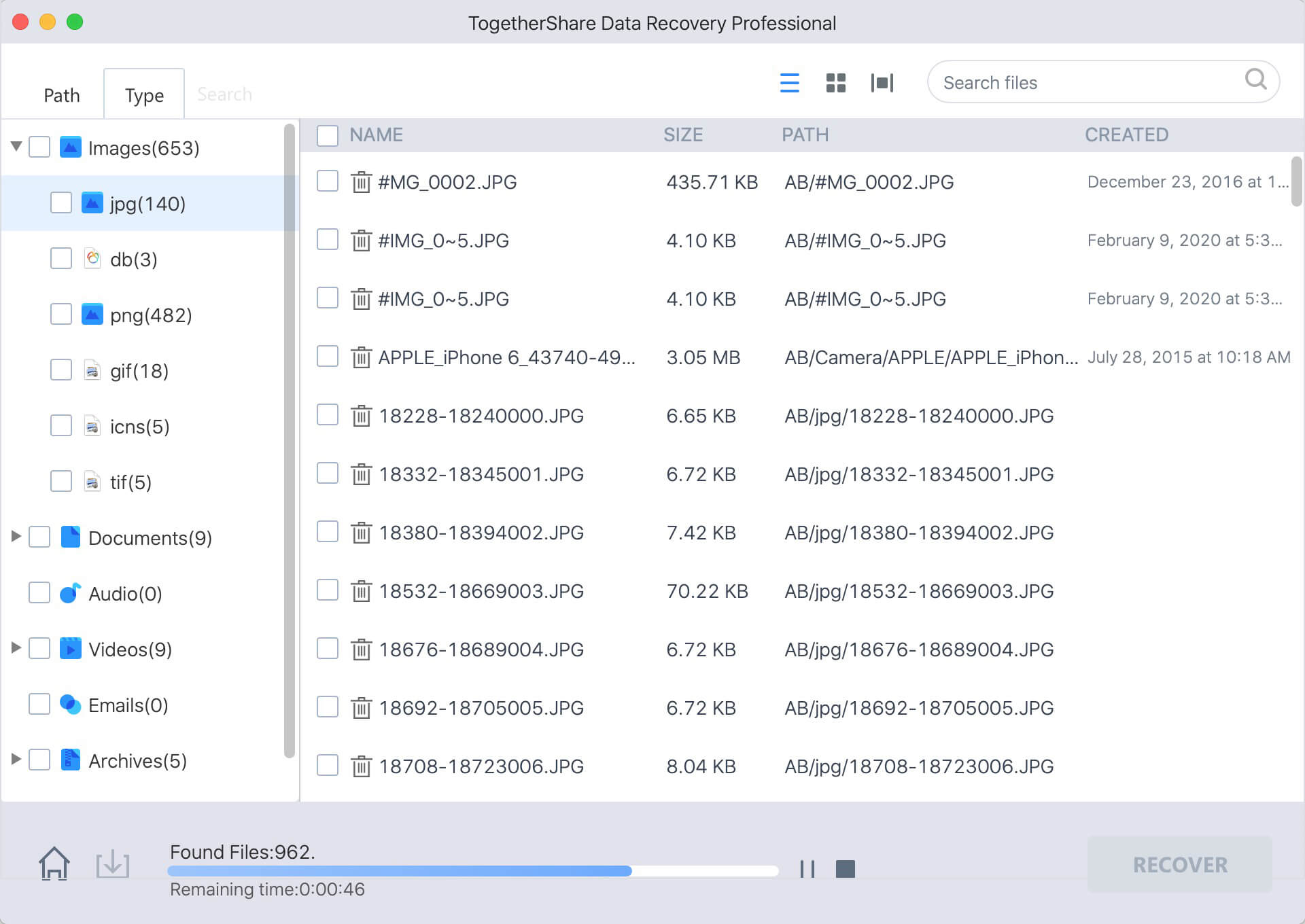 Step 3. Preview and recover the deleted files.
The product will found and list all the deleted or lost files after the scan finishes. You can select the listed files to preview first. If there is no problem to preview the files, it means they are recoverable. Please select your wanted files to recover directly.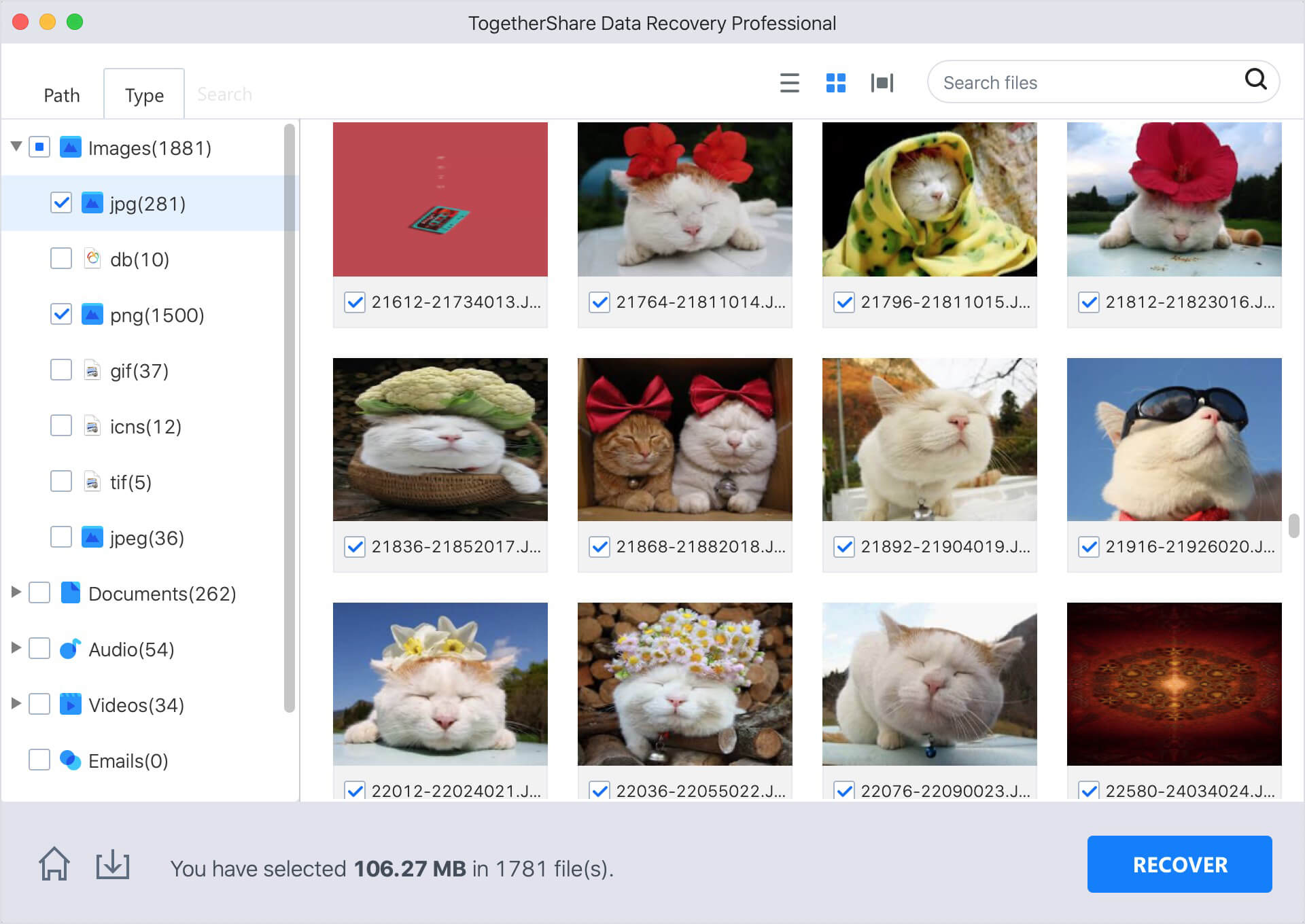 ---
Tips to avoid data loss caused by unintentional deletion
Users of Mac OS, for example, macOS Catalina, would delete important data unintentionally in different situations. Users would delete the files by pressing wrong buttons, remove important data after running a cleanup, transfer files from one place to another place by cutting and pasting but interrupted, and many other reasons would lead to data deleted by accidental.
How to avoid deleting the important data wrongly? Here we provide some tips for you:
1. Always back up your important data to other drive or cloud.
2. Before deleting or cleaning up files, please check carefully and don't delete the useful data.
3. Install anti-virus software to keep your important data from virus infection.
4. If the disk prompts some errors and has bad sectors, it's better to move the files and don't use the disk again.
No matter how careful you are to protect the data, data loss would still happen on Catalina and other Mac operating systems. However, it's not a problem if you have our TogetherShare free Mac data recovery software. It can help you rescue the deleted or lost files in any data loss scenarios.
TogetherShare Data Recovery for Mac
Powerful & easy-to-use data recovery software