PSD files are mostly used by the most popular photo edit software Photoshop. PSD is the default file formats for the files when you editing the photos in the software. The PSD files are very important for users because of the files contain many important information after many hard works. If PSD files are deleted by accidental, it's really horrible for users as they will lose not only just some photos, but also a lot of hard work. Is it possible to recover deleted PSD files with any methods?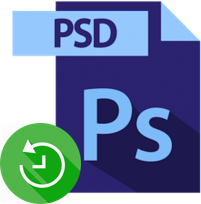 Actually, if the PSD files are simply deleted, there should be no problem to recover the files. First, if you delete a file from the drive, the system will just mark this file as deleted and then you cannot see it directly in the system. So with a data recovery software, you can easily find and recover deleted PSD files. However, as the space of the deleted files is marked as usable, new added files will use the space and damage the lost data. To avoid further damage to the lost/deleted PSD files, please stop writing any new files to the same drive.
TogetherShare Data Recovery is a popular tool that can recover deleted PSD files or any other lost data effectively. So if you deleted or lost PSD files, please download the software directly to get back your lost files.
TogetherShare Data Recovery
Powerful & easy-to-use data recovery software
Recover deleted PSD files with TogetherShare Data Recovery
To help you recover deleted PSD files quickly and effectively, we will provide a short and simple guide for you. Actually, there are only 3 simple steps needed. Please just do as follows step by step.
Step 1. Choose the drive that contains lost data.
Start the software and you will see all the drives in the list. Select the one that contains the deleted PSD files, then click the Scan button to scan.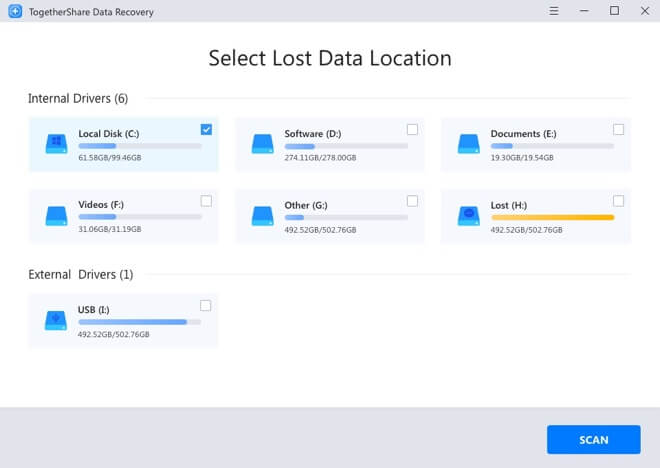 Step 2. Scan the drive to search for PSD files.
During this step, the software will automatically scan the drive. It will deeply search for the deleted PSD files with different methods.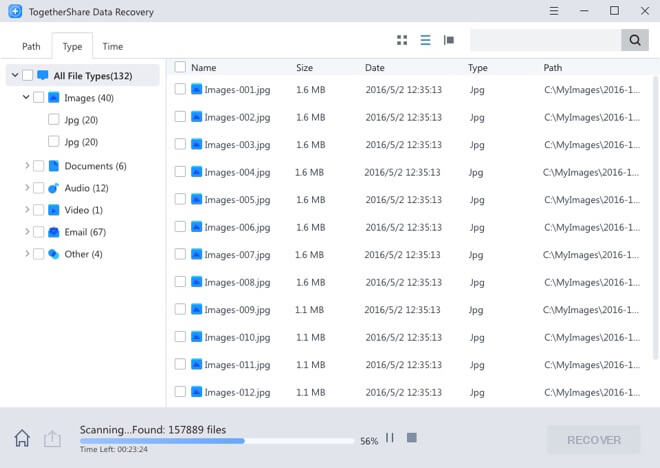 Step 3. Preview and recover deleted PSD files.
After scanning, all the lost data will be found and listed in the software. Please check and locate the wanted files first. Then preview and only choose the recoverable files to recover.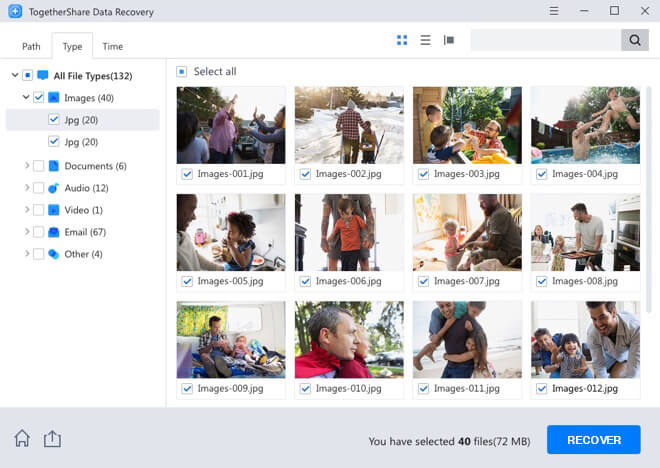 ---
Features for this reliable data recovery software
First, as you can see the software is very easy and simple for users. With just a few clicks, users can recover deleted PSD files or any other data with ease. You don't need to be skillful to use this software. Just follow the wizard and then you can recover lost files directly.
Second, there are full of filter, search, and preview options for users to identify and locate the wanted files. After scanning, you can first locate the wanted files by checking the original paths/names. In some cases, it would not able to recover the original names/paths, don't worry, you can still try to check the files by type, date, size, and so on. Before recovering data, you can preview the files first to check the integrity of the files.
Third, the software is effective to recover lost data from different devices in any data loss cases. It can recover lost data from USB flash drive, hard drive, SSD, memory card, which in NTFS, FAT16/32, ReFS, ExFAT, Ext2/3, HFS/HFS+, APFS, or other partition formats. It's able to recover deleted files, recover lost files after formatting, partition loss, drive damaged, OS crash, human error or other issues.
If you lost data unfortunately in any cases, you can choose TogetherShare Data Recovery to help you retrieve the lost files. It's able to help you recover lost data in both Windows and Mac systems. You can download the software directly on your computer to recover lost data.
TogetherShare Data Recovery
Powerful & easy-to-use data recovery software