2D/3D drawing files are commonly used by the design software. These 2D/3D drawing files including SVG, DXF, DWG, 3DS, X3D, STL, OBJ, FBX, COLLADA, , IGES, STEP, VRML, IFC, BMP, and so on. These files are mostly used by professionals, designers, or other users. Mostly, these files are very important for users and it will take a lot of time to create these precious drawing files.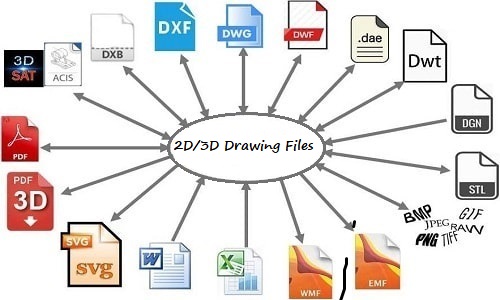 Imagine that after after much time and hard work, but you just find the important 2D/3D drawing files are deleted or missing. You will be mad and urgently want to recover deleted 2D/3D drawing files. especially when the deadline is coming soon. First, we suggest calm down and stop any wrong operations in hurry. Please stop using the application which you create the 2D/3D drawing files, also please don't add any new data to the same drive where the 2D/3D drawing files were located.
The best thing you need to do is get a data recovery software to recover deleted 2D/3D drawing files. To recover these lost o deleted files, we suggest you be careful and choose a professional one. We suggest you use TogetherShare Data Recovery for your need. This software is good at recover any lost data, including 2D/3D drawing files. Please first download the trial version to check if it works for you.
TogetherShare Data Recovery
Powerful & easy-to-use data recovery software
Tutorial: Steps to recover deleted 2D/3D drawing files
After downloading the software, please install the software to another drive instead of the one that contains the deleted or lost 2D/3D drawing files. Then you can run the software to recover deleted 2D/3D drawing files. As the software is very easy and simple, you will find it's not hard to operate the software and recover lost files. Actually, only 3 steps needed to recover lost files by using this tool. Please just follow the steps as below.
Step 1. Choose the drive where you lose 2D/3D drawing files.
After launching the data recovery software, you will find the drive, which you deleted the 2D/3D drawing files, in the software. Just select it and click the Scan button to start.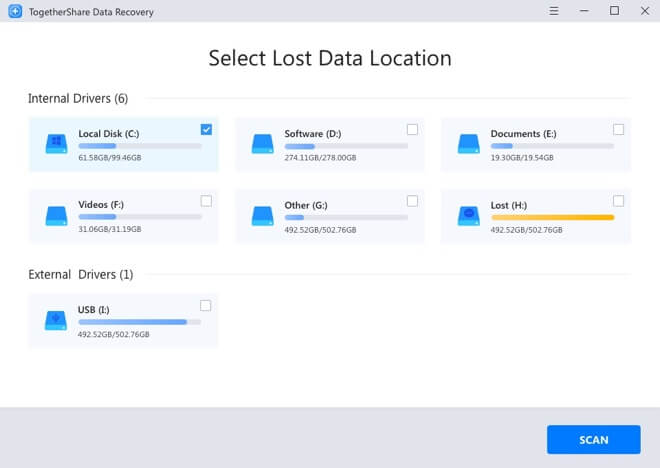 Step 2. Scan the drive to search for lost 2D/3D drawing files.
You will find the software is scanning the drive automatically after get into the second step. With advanced scan and recovery technology, the software will deeply analyze the drive and find the lost files.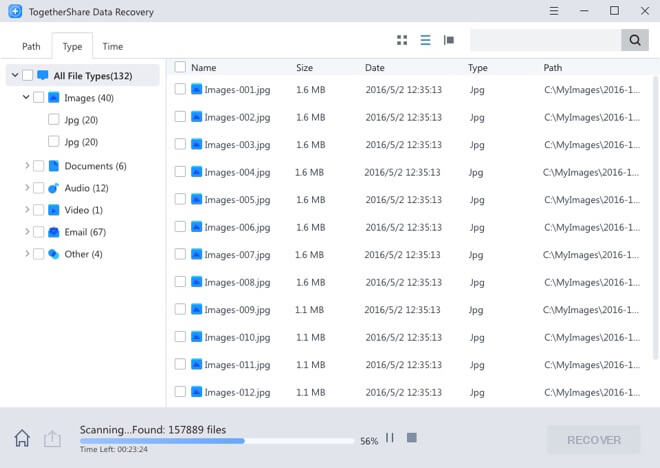 Step 3. Preview and recover deleted 2D/3D drawing files.
Once the drive is scanned completely, the software will just show you all the found files in paths or types. Please check and locate the wanted files manually, then preview and only choose the wanted files to recover.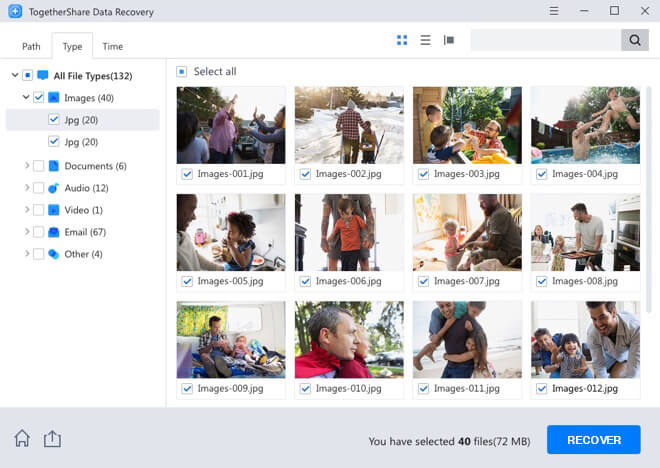 As data is priceless mostly in nowadays, we suggest you always create regular backups for your important and personal files. Also, please always be careful when trying to remove data from your computer or any devices. In these ways, you will keep your data safe to the largest extent.
However, data loss will still happen sometimes because of hard drive damage, system crash, partition loss, human error, power outage, or any other reasons. If you don't have backups for the data, don't worry. There is still the last chance to help you retrieve the lost files - use a data recovery tool. As one of the best data recovery software, TogetherShare Data Recovery is hot recommended for users. You can download the software to have a try now.
TogetherShare Data Recovery
Powerful & easy-to-use data recovery software