Financial or tax applications are commonly used for users. These applications use different type of documents for the financial data. For example TurboTax file (.tax), Quickbooks file (.qbw), Lacerte Tax (.mdx), and so on.The financial documents are very important for users. If you lose the documents, you will lose all the work and have to redo all the work from scratch. So users should be very careful to keep their financial documents safe.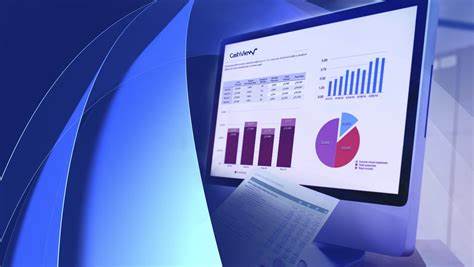 However, no matter how careful you are, there will still be issues happen for unexpected reasons. Then you will lost the important financial documents. There are some common reasons for data loss for financial documents.
Delete financial documents intentionally or unintentionally.
Format the drive where you store the financial documents.
Application crash/error cause financial documents lost.
System errors lead to financial documents missing.
Cannot access the drive where the financial documents locate.
More other unknown issues for financial documents loss.
How to recover deleted financial documents if data loss happened? Actually, we suggest you use a reliable data recovery software to recover the deleted or lost financial documents directly. It's an easy and affordable way for home users.
---
Detail steps to recover deleted financial documents
First, we recommend the trusted and popular data recovery for you. It's TogetherShare Data Recovery - a professional data recovery tool that can help users to recover deleted or lost financial documents. Please download the software and install it on your computer.
TogetherShare Data Recovery
Powerful & easy-to-use data recovery software
Second, if you deleted or lost financial documents, please stop running the financial application and don't use the drive to save any new data. Otherwise, the lost data would be damage and cannot be recovered successfully. Then please just do as follows step by step to recover deleted financial documents.
Step 1 . Choose the drive where you delete financial documents.
Run the data recovery software first, and then choose the drive where you deleted financial documents. Please click the Scan button to start.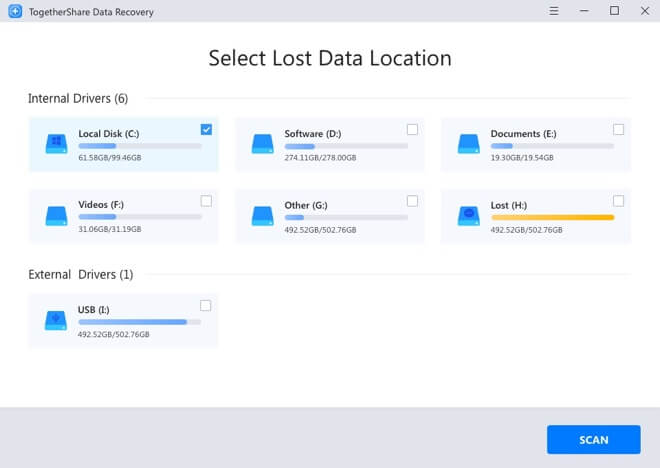 Step 2. Scan the drive to search for deleted financial documents.
At this step, the software will automatically scan the drive. It will deeply search for the deleted financial documents from the drive.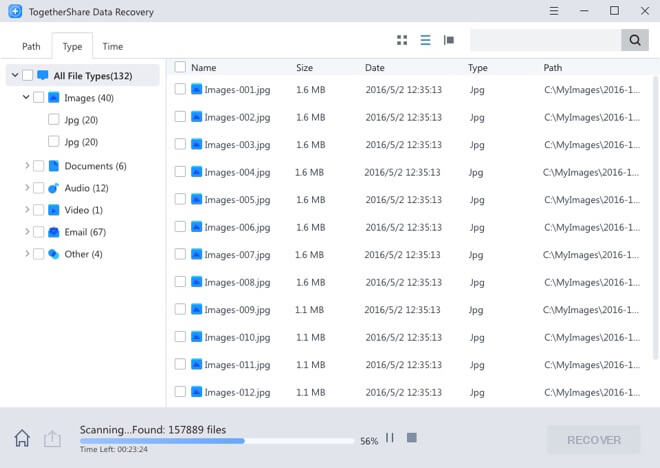 Step 3. Check and recover the deleted financial documents.
After scanning the drive, you will see the software just list all the found files in the interface. Please check the files in the list to find the wanted files to recover.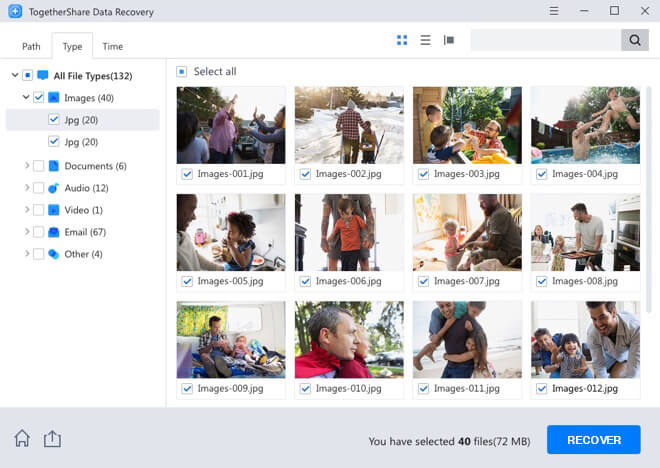 ---
TogetherShare can do more for you
Actually, TogetherShare Data Recovery is able to recover other types of lost data for users. For example, you can also recover deleted or lost audio files, documents, archives, pictures/images, video clips, emails, and other kinds of data used by different users.
Also, the software supports different types of storage devices, including internal/external hard drive, USB flash key, memory card, etc. It can recover lost data from different devices in NTFS, FAT32, EXT2/3, ReFS, ExFAT, APFS, HSF+ and other formats.
It's a software available for both Windows and Mac users. This software support different versions of operating systems, including latest Windows 10 and macOS 10.15 (Catalina). So please feel free to download the proper version for you own needs.
TogetherShare Data Recovery
Powerful & easy-to-use data recovery software