"I have just lost my 7-zip archives, it was always been there until yesterday I updated my antivirus software on the computer. It just disappeared. I have no idea about what happened and how. Just help me to recover my 7-zip archives. Thank you!"
7-zip is a useful express tool. When you need to store or transfer files, use 7-zip to express the files and make the files much smaller than it was. It will save you lots of time.
However, 7-zip archives are also easy to be recognized as viruses by the antivirus software. Some of the antivirus software may even delete the files directly. You will find out that you 7-zips archives are corrupted or disappeared.
Try to fix the corrupted 7-zip archives
For the users who are good at coding, here what you need to do:
Try the latest version of 7-Zip
Know 7z archive structure
Judge Corruption types
Create a good archive with specific rules
Recover the corrupted archive
Please try the method in 7-zip.org
---
How to recover 7-zip archives easily?
TogetherShare Data Recovery is one of the easiest data recovery software which can help users to recover deleted or corrupted files like photos, documents, videos, audio, archives, emails, and 7-zip archives, of course. Even though you don't have any acknowledge about coding or data recovery, you can still recover the 7-zip files with this software in just a very limited time.
Step 1: Download TogetherShare Data Recovery
Just download this PC deleted photo recovery software by click on the following download button. Then run it on your PC.
TogetherShare Data Recovery
Powerful & easy-to-use data recovery software
Step 2: Select the hard drive.
Choose the hard drive where you delete or lose the 7-ZIP files.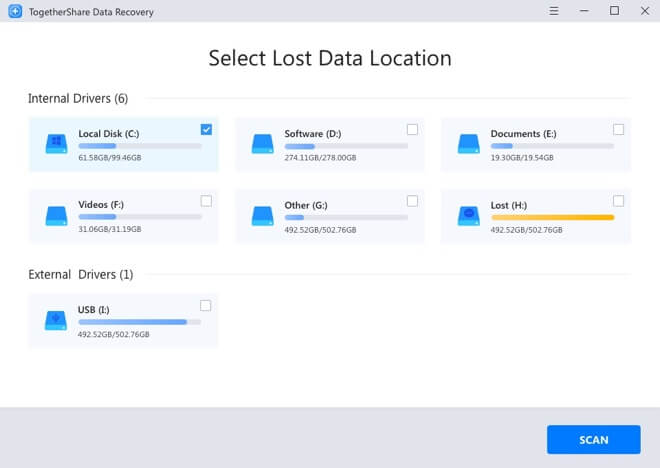 Step 3: Scan the hard drive to find lost or corrupted 7-zip archives.
Where you lost you files and archives? Just select the hard drive where those were lost or deleted, then scan it to find the lost files and other data.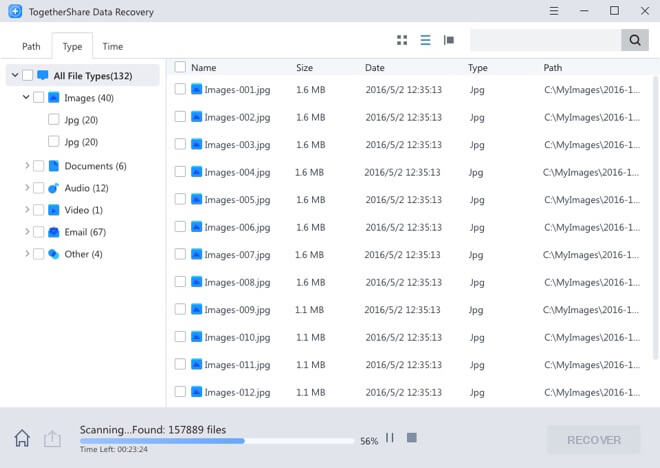 Step 4: Recover 7-zip archives
Once the scan is completed, TogetherShare Data Recovery will show all the files. You can find the name of your lost or corrupted 7-zip archives. Then save them to your computer. If you can't find all deleted photos after quick scan, just try deep scan mode to find more deleted files.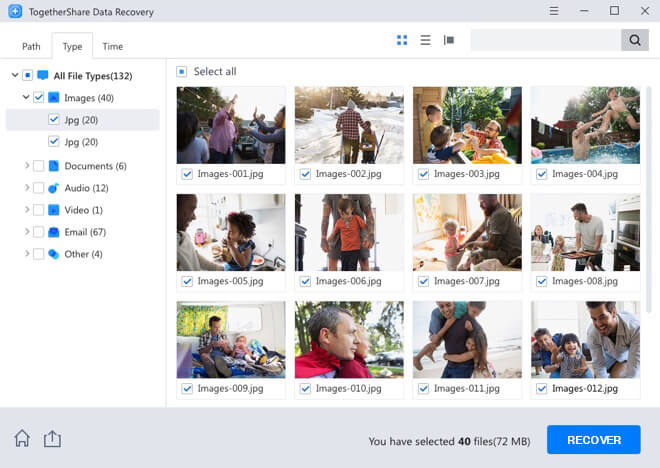 Tips: The earlier you try to recover the files, the more files and data you could recover, including recover data from formatted hard dives. Sometimes, the files may already have been overwritten, in that case, the files and data will be extremely difficult to recover.
TogetherShare Data Recovery
Powerful & easy-to-use data recovery software