To save space, users always archive the old data/files with compressed files such as RAR and ZIP files. Especial for some document files, it can compress the files in a very high compress rate to save much disk space on your computer. And we always compress many files together into one compress file. For example, we would archive the weekly or monthly files into one RAR/ZIP file at a time. It's a good way to sort out the old data for us.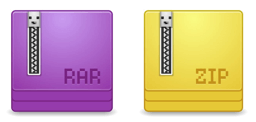 However, there is a potential issue for RAR/ZIP files. Imagine that you delete or lose some RAR/ZIP files by accidental, what would happen? As mentioned, we would compress many files into one RAR/ZIP file, if there was data loss happen, we would lose many files even we just lost a few RAR/ZIP files. So it would be very urgent and important to recover deleted/lost RAR/ZIP files if you suffered data loss.
---
How to recover lost/deleted RAR/ZIP files?
Firstly, you need to choose a reliable RAR/ZIP file recovery software. Only with reliable software, you are able to recover deleted RAR/ZIP files successfully. To avoid further damage to the lost or deleted RAR/ZIP files, we suggest you don't try and use the immature data recovery software. Otherwise, it would further damage the lost RAR/ZIP files then you will lose the files permanently.
What's the best RAR/ZIP file recovery software? There is no doubt that TogetherShare Data Recovery should be the answer. This software is a professional data recovery software to recover deleted RAR/ZIP files from hard drive, SSD, USB flash drive, SD card, memory stick, and many other storage devices.
It can also recover deleted/lost videos, photos, documents, emails, audio and many other data in any data loss situations. To check if it works for you, just download the software to have a full trial first.
TogetherShare Data Recovery
Powerful & easy-to-use data recovery software
After download and installing the software, you can then recover deleted RAR/ZIP files. Please note that the software is very easy to use. You can just do it by yourself without problem. With the understandable interface, you can easily get back your deleted or lost RAR/ZIP files in only 3 steps. Here is how:
Step 1. Connect and choose the drive which contains the deleted RAR/ZIP files.
If you lost RAR/ZIP files from a drive, please ensure to connect it to the computer first. Then run the data recovery software and select the drive from the product, click the Scan button to continue the recovery.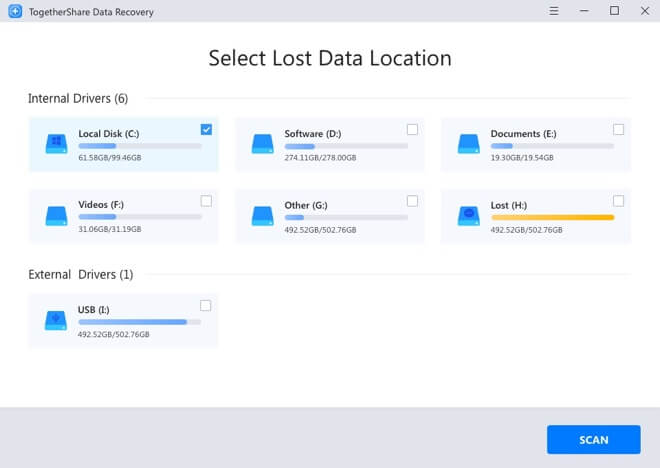 Step 2. Scan the drive to search for deleted RAR/ZIP files.
The data recovery tool will automatically and deeply scan the drive/device to look for the deleted/lost RAR/ZIP files.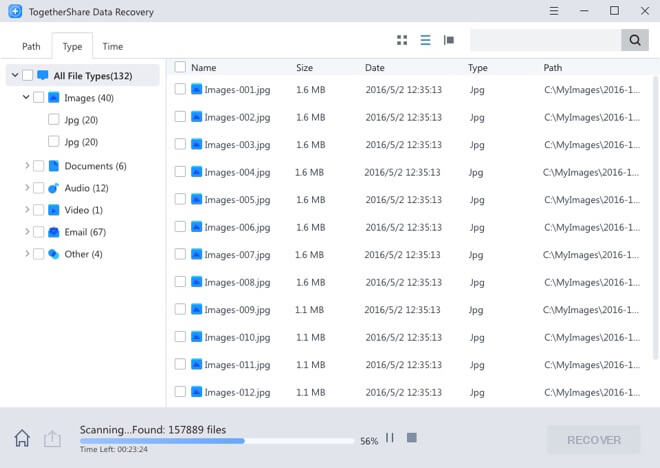 Step 3. Recover the deleted RAR/ZIP files.
After the scan is finished, you are able to check the RAR/ZIP files and then only select the wanted files to recover. To ensure the recovery success, please save the recovered files to another drive.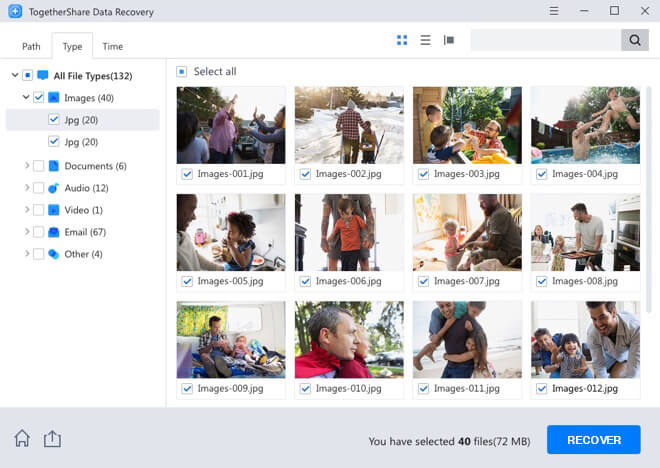 As you can see, TogetherShare provides easy and effective data recovery software for you. If you lost data and want to recover the lost data by yourself easily, don't miss TogetherShare Data Recovery. It's a very simple software for any user. Just download it now and recover your lost data immediately.
TogetherShare Data Recovery
Powerful & easy-to-use data recovery software