Why we need file shredder? Normally, we will remove and delete some files if we don't need them anymore. But if the files are personal and confidential, users will want to delete the files completely. However, if we delete the data simply in system, it's still able to recover deleted files with some data recovery software. If you want to shred files completely and avoid being recovered with any way, you will need a professional tool to help you.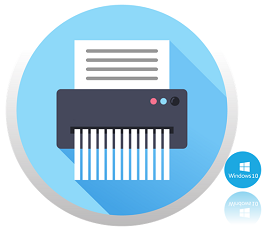 There are some file shredder tools in the market to remove the files permanently. Then nobody can recover the deleted files with any methods. However, different tools will lead to different result. In order to help users shred files effectively, we tested many tools and choose the top 5 file shredder for Windows 10 users. They are most reliable and professional to shred/wipe files. We will share these 5 file wiper tools on this page.
---
Top 5 file shredder for Windows 10
As the best Windows 10 file shredder, TS DataWiper is strongly recommended for users. With professional data wiping technology, the software is able to shred files and folders on the Windows 10 machines. The tool is able to permanently shred files from computer internal drive, external drive, SSD, USB flash drive, SD card, digital device, or any other storage media.
This software is a powerful and easy-to-use data erasure tool for Windows 10. You can use the software to shred files/folders completely in Windows 10 without any complex knowledge and skills. It can wipe files permanently with international data erasure standards including HMG Infosec Standard 5, Baseline; DOD 5220.22-M; U.S. Army AR380-19; Peter Gutmann's algorithm.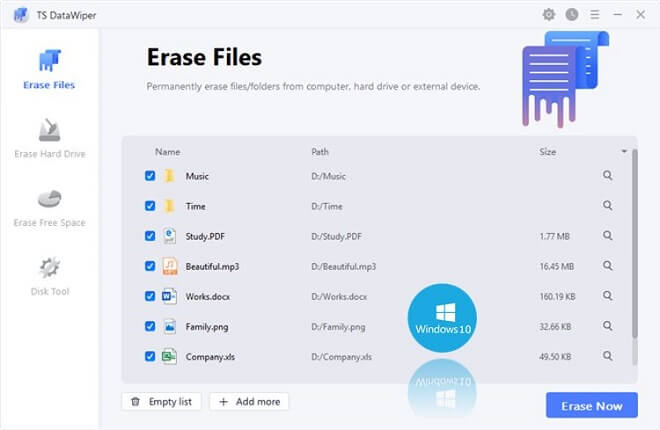 Eraser is a well-designed file shredder software. First, the software can shred files completely as other capable data wiper with common options. What's more, you can also schedule file shredding precisely in Windows 10.
The software use the following data erasure methods: DoD 5220.22-M, AFSSI-5020, AR 380-19, RCMP TSSIT OPS-II, HMG IS5, VSITR, GOST R 50739-95, Gutmann, Schneier, Random Data. It can satisfy different user's meets to shred files in Windows 10 and some other systems, like Windows 8/7/Vista/XP, as well as Windows Server systems.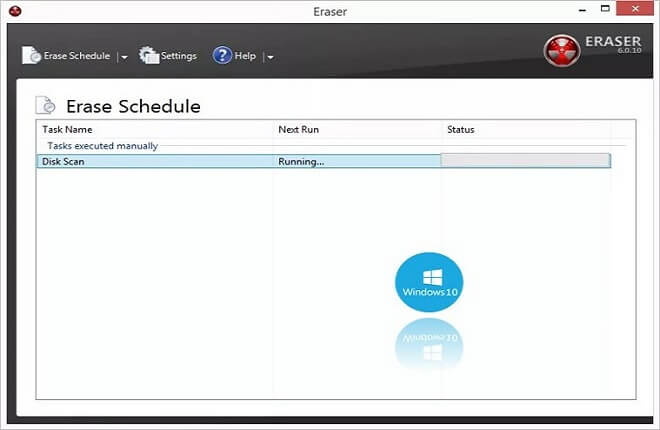 Shredding files with Disk Scrubber is as easy as other tools. You can directly choose the files/folder you want to wipe and then click the Scrub Files button to shred the selected files/folders completely. However, this tool only have a few data wiper methods: AFSSI-5020, DoD 5220.22-M, and Random Data.
In addition to the above mentioned information, you can also create your own custom wipe pattern in Disk Scrubber, such as writing specific characters over files on the Windows 10 machine.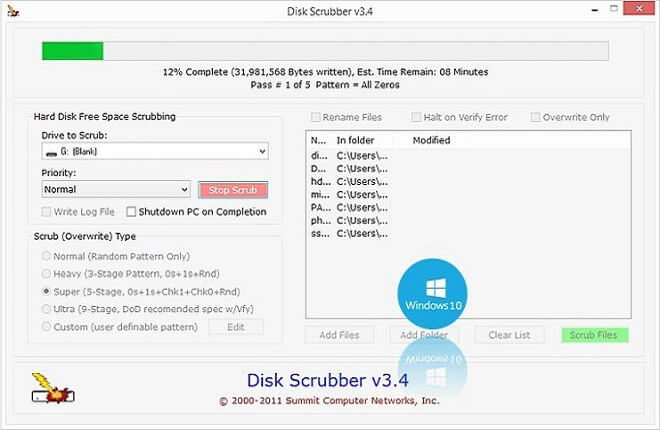 Delete Files Permanently supports more methods of data wiping than many other programs in the market, like AR 380-19, DoD 5220.22-M, GOST R 50739-95, Gutmann, HMG IS5, NAVSO P-5239-26, RCMP TSSIT OPS-II, Schneier, VSITR, Write Zero.However, this data wiping software only supports shredding individual files. It cannot wipe entire folders like most of the other tools.
There are options in the settings of this tool, you can even add custom data wiping schemes in Windows 10 or other systems. Besides, it's totally free to use the tool for data erasure.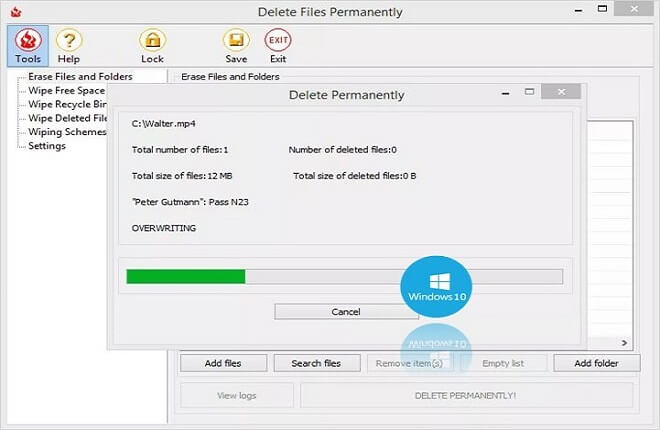 XT File Shredder Lizard is another reliable and popular file shredder. You can add and wipe multiple files/folders at once. Besides, the software can also easily shred the data in the Recycle Bin with the following methods: DoD 5220.22-M, Random Data, Write Zero.
This simple and free tool works in the latest Windows 10, also it supports old versions of Windows like Windows 8, 7, Vista, and XP.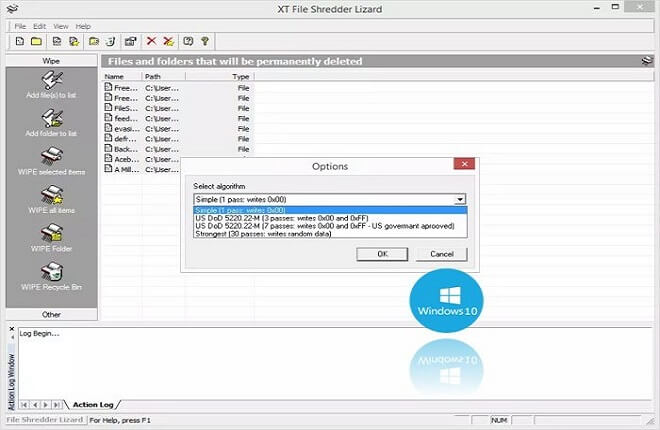 ---
Shred files permanently with TS DataWiper in Windows 10
It's easy to shred files with the software TS DataWiper. With any a few clicks, users can use the software to shred files/folders and wipe them completely. You can download the software first to have a try.
Here we will show you the simple steps to shred files with the tool.
TS DataWiper
The most powerful data erasure software to permanently erase data.
Step 1. Just run the software first, and then choose Erase Files option.
Step 2. Choose the files or folders you want to shred to the list. Then just click the Erase Now button to shred the files/folders permanently.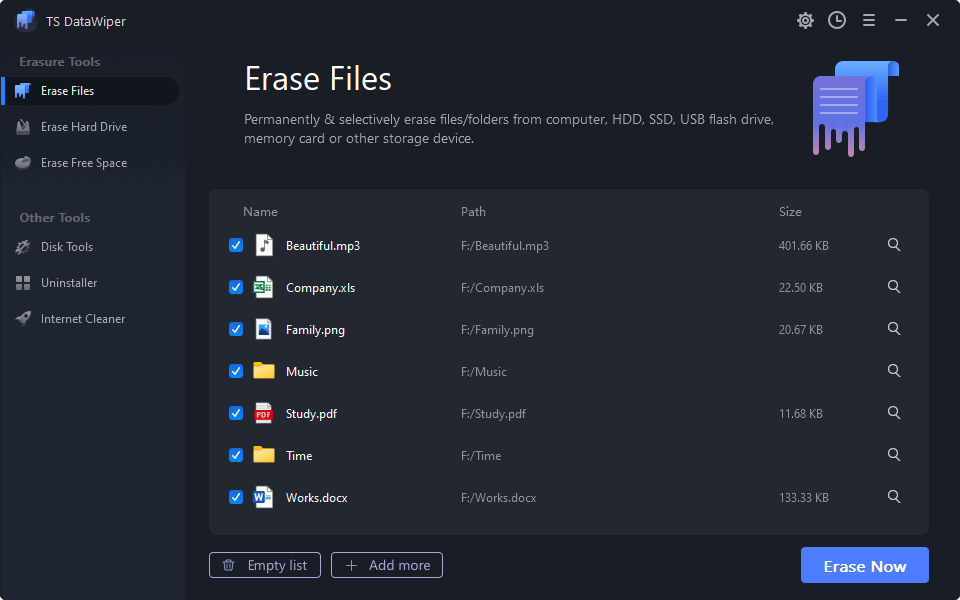 Actually, you can erase other data besides erasing the files/folders. It's full featured software with comprehensive functions. For example, you can even erase deleted or lost data by erasing the free space of drive. Also, you can also erase an entire drive to wipe all the files/data on the drive directly. You can also use the software to repair damaged drive or format a drive, etc.
Before shredding files or wipe drive with the software, we suggest you first check and choose the files/drives carefully to wipe. Otherwise you will lose the files/data permanently as the wiped data is no longer recoverable. Also, if you just want to wipe data on a drive that will not be used anymore or will be sold, please ensure to move and back up the data to other drive first. Then please just download this software to wipe data based on your own needs.
TS DataWiper
The most powerful data erasure software to permanently erase data.