Sony XQD card is popular used in digital camcorder and camera. It's designed to have high read/write speed and large capacity. It's was mostly used by professional photographers and some amateurs. Normally, the users will use the XQD card to store the very important photos and videos.
For users, it's necessary to erase the data from XQD card some times. For example, after shooting photos/videos for clients, professional photographers will have to erase all the data on the card to ensure the clients' data safe. Please note that if you simple delete all the files or format the Sony XQD card will not erase the data completely. The data can still be recoverable and many software can recover data from the XQD card. A professional data wiping tool is needed to permanently erase data from Sony XQD card.
---
How to permanently erase data from Sony XQD card?
As mentioned before, you first need a professional and effective data wiping software. Only with a data erasure software, you can easily erase data from Sony XQD card. The software we strongly suggested for you is TS DataWiper. This tool is very simple with intuitive interfaces. It also provides different modes and algorithms to wipe data from XQD card or any other storage devices. You can use this software to wipe your sensitive data with the proper methods in different situations.
Before trying to wipe your data from Sony XQD card, please first download the software.
TS DataWiper
The most powerful data erasure software to permanently erase data.
Please install the software on your computer and ensure to connect the XQD card to your computer with a card reader. Then run the software to wipe data from Sony XQD card. You can use any of the 3 modes to wipe your data in proper cases. Here we will show you the 3 data wiping modes in detail first.
Method 1. Erase Files.
If there are some files on Sony XQD card that you you want to remove permanently, you can choose this mode. It can help you erase the selected files or folders on the XQD card. It will not affect the other files on the card.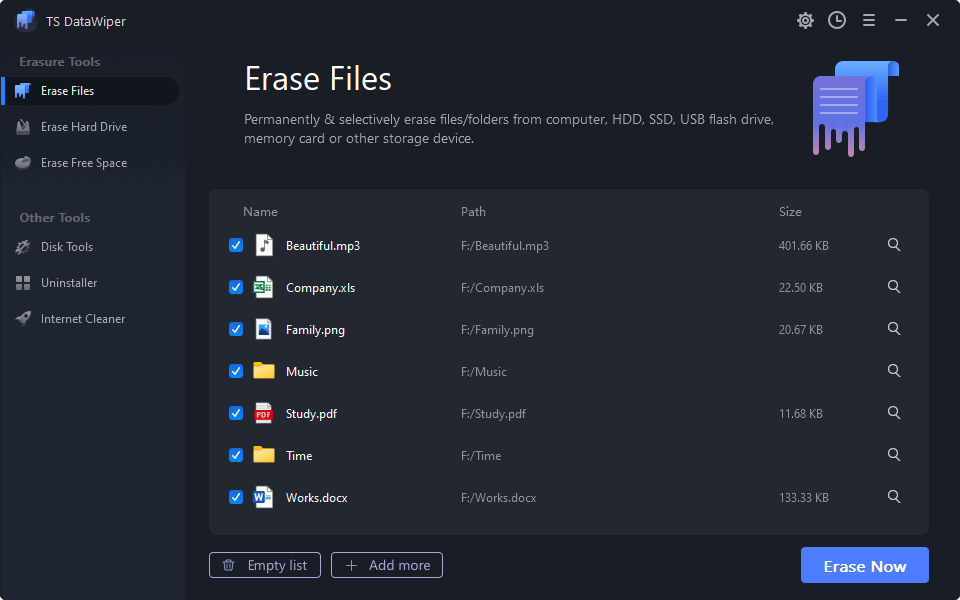 Method 2. Erase Hard Drive.
However, some times, you may don't need any files on your Sony XQD card, you can remove all the files from the card directly. This mode will erase the entire Sony XQD card and wipe all the data on the card. Then no any valid file will be found and recovered from the card.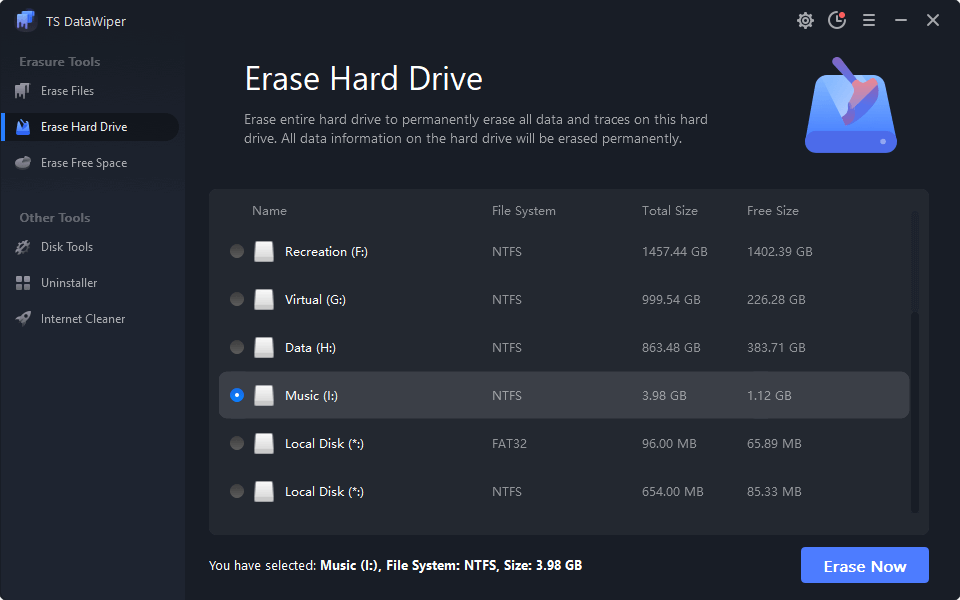 Mode 3. Erase Free Space.
After deleting some unwanted files and ensure to destroy these data permanently, you can use this mode to achieve the goal. It will only wipe the free space on Sony XQD card and all the deleted/lost data will be permanently erased.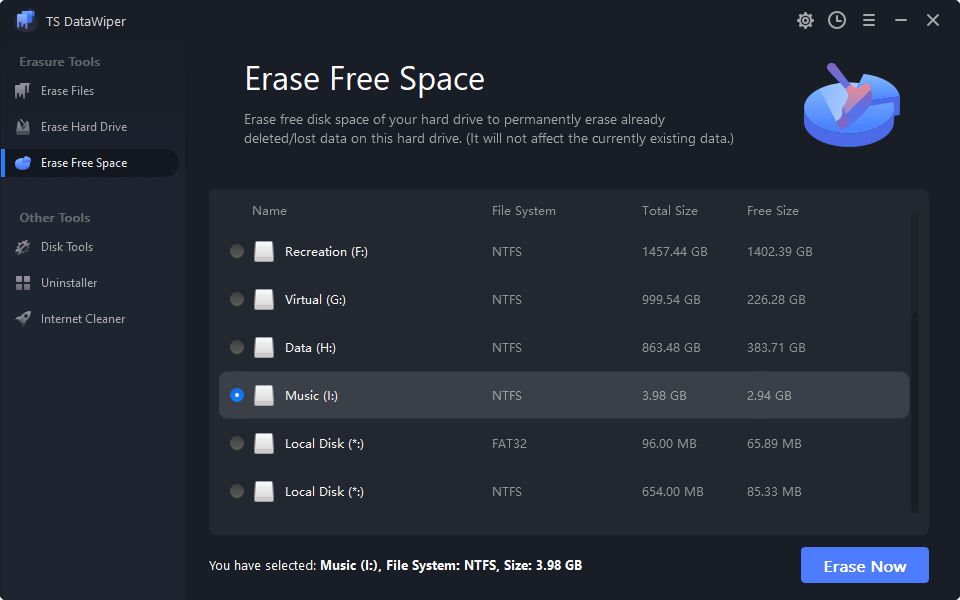 XQD card, SD card, other memory card, hard drive, SSD, USB flash drive, or any other kinds of storage drive could be easily erased by TS DataWiper. It's reliable solution for you to wipe sensitive and confidential data for you to keep your information safe. However, as the the wiped data will not be recovered in any way, so please be careful to choose the correct files or device to wipe. You can download and have a try with the software if you need to wipe data.
TS DataWiper
The most powerful data erasure software to permanently erase data.