Nowadays, Digital camera is extensively used by professional or amateur photographers, nearly every family hold a camera to remember their leisure and happy time. So the memory card of camera is also widely used all around the world. XQD card is a kind of memory card for digital camera. It's safe and efficient to store data even in extreme natural environments. It's becoming more and more popular in recent years.
During the use of XQD card, did you ever delete the precious photos or videos wrongly? Did you ever mistakenly format your XQD card by accident? If you did the operations without backup, it means you just lose the files. Then how to recover XQD card data? Now we will show you how to get the lost photos and videos back from a XQD card in this article.
---
Download the XQD card data recovery tool
First, please stop taking more photos and get your XQD card out of the camera. Don't do any other changes to the XQD card. It will avoid data overwriting to the card. If there is no any further damage to the lost data, it's okay to recover the lost files 100%.
TogetherShare Data Recovery
Powerful & easy-to-use data recovery software
Download the XQD card data recovery software – TogetherShare Data Recovery. The software is a professional data recovery tool capable for lost file recovery for XQD card. Recover data from XQD card is easy and fast for this product, only a few clicks are needed to get the data back.
---
How to recover XQD card data with TogetherShare Data Recovery?
To recover data from XQD card with the product, you need to get a card reader first. Insert the XQD card to the card reader, then connect the card reader to the computer. Install the product and run it to recover lost files as follows.
Step 1. Scan the XQD card. The card will be detected as an external drive in the product. Select the card and click Scan to Start.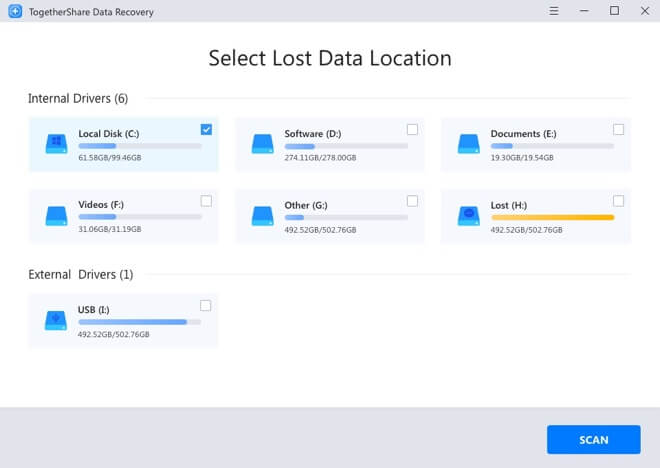 Step 2. TogetherShare XQD card data recovery software will scan the card for lost files. It would be fast to scan XQD card, please wait patiently.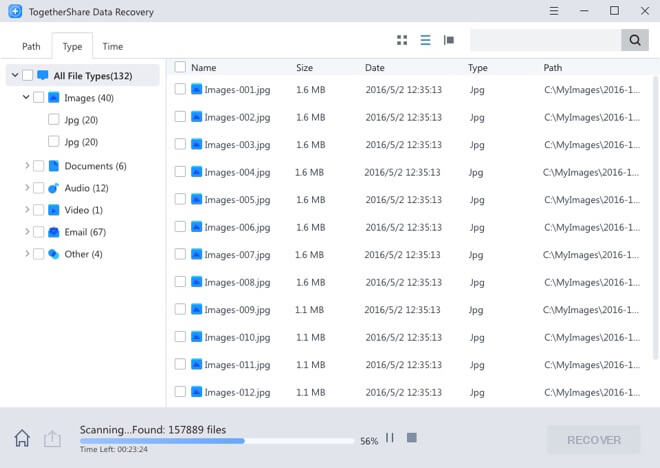 Step 3. When it finishes the scan, the product will list all the found photos and videos. It's no problem to preview the files with this XQD card data recovery tool. Once the wanted files were validated as recoverable. Just select them to recover and save to another drive.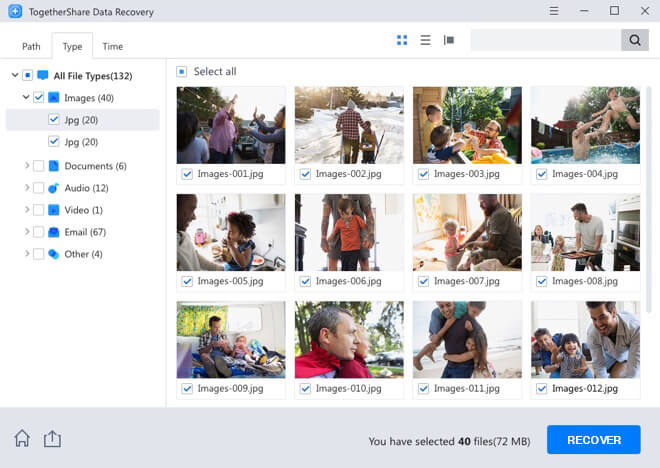 Please note that, our product TogetherShare XQD data recovery software is also adept in data recovery for other kinds of cards. Such as TF card, CF card, SD card and so on. And it supports all the picture and video file formats which are mostly used for camera, such as JPG/JPEG, RAW, TIFF, NEF, CR2, DNG, MTS, MP4, etc.
TogetherShare Data Recovery
Powerful & easy-to-use data recovery software