"When I connect my WD My Passport external drive to the computer, It's recognized and I can see the drive letter just as usual. But it prompts 'Location is not available' error message when I open it. What's wrong with the drive? I need the files on the drive, they are very important to me."
It's one of the most common issues that cause data loss on WD My Passport. Of course, there are many other scenarios of data loss for the WD My Passport users. Is there any data recovery software to retrieve the lost data on WD My Passport? Yes and we suggest you use TogetherShare Data Recovery. It's the best WD My Passport portable hard drive data recovery tool in the market.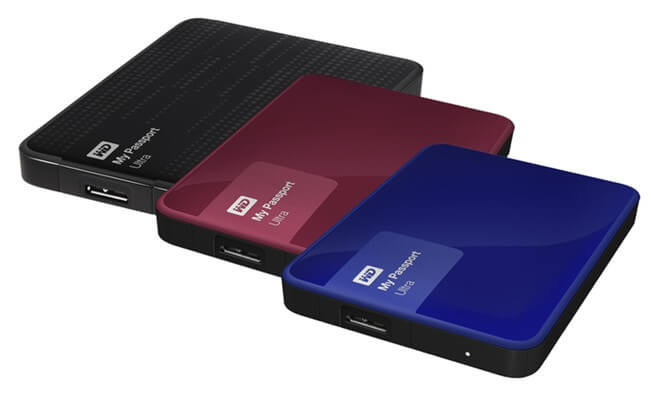 ---
How to recover WD My Passport data with TogetherShare Data Recovery?
First, please download the software. It's available for both Windows and Mac users. Just select the corresponding version based on your own needs. Click the buttons below to start downloading.
TogetherShare Data Recovery
Powerful & easy-to-use data recovery software
Then, connect the WD My Passport portable hard drive to the computer. Run the software to start the recovery as follows step by step.
Step 1. Choose the WD My Password portable hard drive.
In the device/drive list of the product, select the correct drive that you lost data. Click the "Scan" button to start.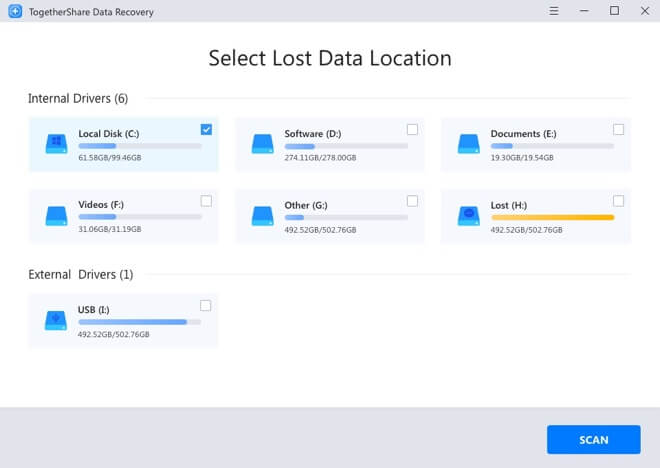 Step 2. Scan the WD My Password portable hard drive.
The data recovery application will automatically scan the drive and search for the lost data efficiently.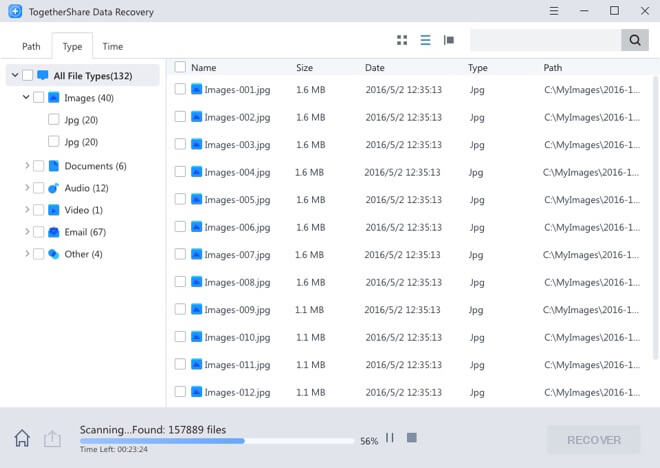 Step 3. Preview and recover the lost data.
After finishing the scan, we suggest you first preview the files to check and only select the wanted files to recover.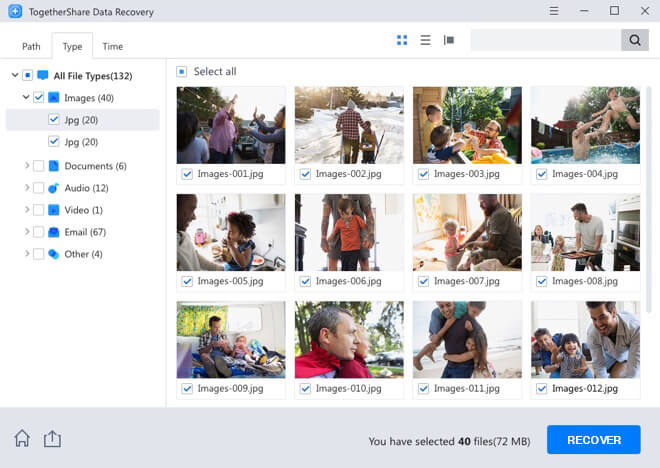 ---
How to prevent data from losing on WD My Passport?
Digital information is more and more important for user in modern info time. It's very critical to protect the data on our devices. For WD My Passport users, we can provide some tips.
First, as the portable drive is often used, so it's more probable to face data loss. It's strongly suggested to also back up your important data from WD My Passport to other places.
Second, it's wise to swap the WD My Passport portable hard drive after a long time use. Hardware issues would arise after using the portable drive for some years.
Third, use the WD My Passport hard drive in a proper way. Don't unplug the drive directly when it's in use. And please ensure to eject it safely before removing it from the computer.
Data loss would still occur by accident no matter how careful you are. Don't worry, as a comprehensive data recovery software, TogetherShare Data Recovery is able to help you recover data in many data loss scenarios. Unless the drive is physically damaged or the lost data is overwritten or damaged, this super external har drive data recovery tool is able to restore the lost data. Download the software from here now:
TogetherShare Data Recovery
Powerful & easy-to-use data recovery software