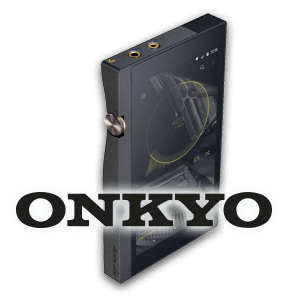 To enjoy better sound quality of music, more and more users choose to use professional audio or music player, such as Onkyo. It can provide better listening experience than most of the smart phones. Also, you can store nearly all your favorite music files on the Onkyo audio player with a large c. Some models of the Onkyo audio players even provide 2 ports for TF cards and then you can store more high-quality audio files. So the TF card of Onkyo audio player is very import for users as it carries the favorite audio files. If you don't be careful and have no backup for the favorite music files, you will lose them in some cases unintentionally.
Normally, there will be too many music files which are downloaded from different sites at different time. Also, you must take so much time to rearrange your music collections. It's not easy to download all the music files again and sort them out manually. The best way is using a data recovery software to recover lost files from Onkyo audio player.
Download data recovery software for Onkyo audio player
If you deleted your music files or lost them from Onkyo audio player by accidental, don't be panic. TogetherShare Data Recovery, the most effective data recover tool, is able to help you get back the lost audio files from your Onkyo audio player easily. It's able to recover deleted or lost audio files from your Onkyo audio players in many data loss scenarios.
After losing data from Onkyo audio player, don't be worried. Calm down and do the correct things to recover the lost data. Please first stop using it, unplug the TF memory card and connect to the computer with a card reader. Then download the software to help you recover the lost files.
TogetherShare Data Recovery
Powerful & easy-to-use data recovery software
The software support different types of audio files and it can help you recover all your lost audio files from Onkyo audio players. For example, it can recover deleted or lost MP3, APE, TIFF, WAV, MMA, FLAC, AAC, and any other popular music and audio file formats.
Moreover, the software is very simple to use. No complex interactions, users can just follow the wizard to do the data recovery job within a few clicks. It also provide filter, search and preview functions to help users identify and recover lost files easily.
---
Steps to recover lost files from Onkyo audio player
There are only 3 simple steps needed to save your lost files on Onkyo audio player with this software. It's amazing, right? Please just do as follows step by step to do the job.
Step 1. Connect and choose Onkyo audio player.
As mentioned, the audio files are stored on TF memory card, so you can just connect the card to the computer. Run TogetherShare Data Recovery and choose the card to continue directly.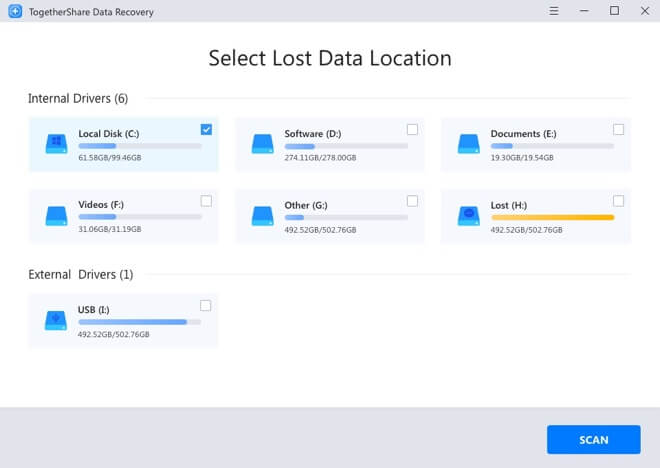 Step 2. Scan the TF memory card of Onkyo audio player.
At this step, you will find the software is scanning the device automatically. You don't need to do anything at this step then. Just wait patiently and you can have a cup of coffee during the time.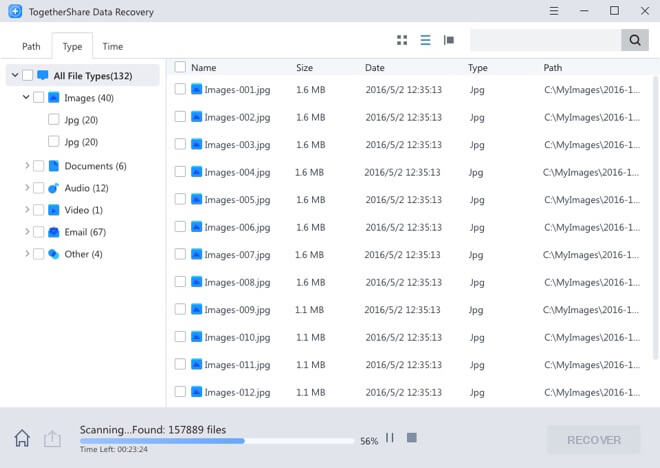 Step 3. Preview and recover the audio files.
Once the scan is competed, all the lost data will be found and shown up in the software. You can preview and check the audio files first. Then only choose the wanted files to recover.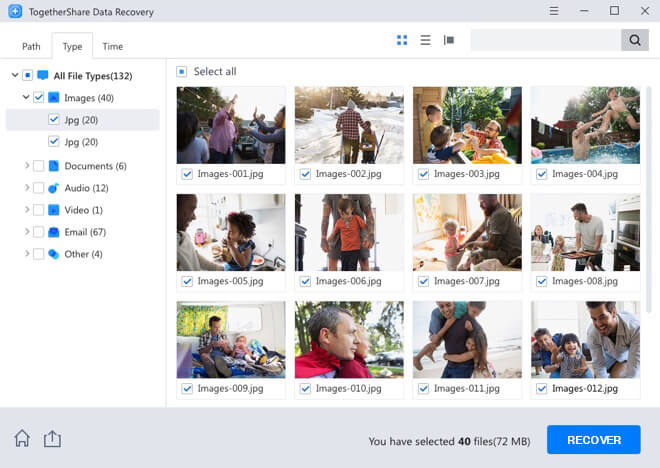 As a comprehensive recovery tool, TogetherShare Data Recovery can not only recover audio files, but also recover deleted/lost graphics, video clips, documents, and any other kinds of data on your computer, external drive, memory stick, USB key, and more devices. Just download the software to rescue your lost files.
TogetherShare Data Recovery
Powerful & easy-to-use data recovery software