"Hi, I deleted some photos from a memory card. Is there any way to get the deleted photos back? I heard that data recovery software could recover deleted photos from memory card. Is that true?" - Maniro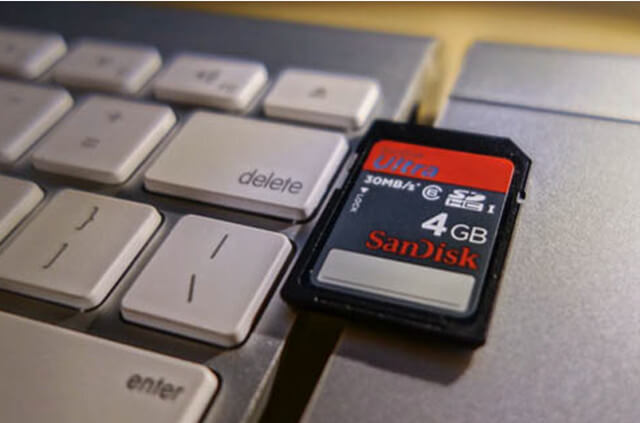 The photos deleted from the memory card of our camera or cell phone is something that has happened to everyone at least once in a lifetime, the typical phrases of "delete the photos of our anniversary" or "by mistake delete the photos of Sam's birthday" are those that accompany these types of problems that arise when we least expect them, and this is why we wonder if there will be an easy solution that we can apply at home.
---
Recover deleted photos from your memory card successfully
Sometimes it seems impossible to present the situation of having to recover photos deleted from our memory cards, but without fear of error we can say that it is a more frequent problem than many think. We tend to lose either by carelessness or causes beyond our control as the visit of the smallest to home, those images that somehow keep a generally sentimental memory of some important part of our lives, and that is why recovering them becomes something of great importance.
TogetherShare Data Recovery
Powerful & easy-to-use data recovery software
TogetherShare Data Recovery gives us back the lost hopes and the solution to be able to see again those images that produced us so much pleasure at some time, and that we can have again to treasure them and share them with friends and family in our next family reunion, simply download and install this excellent program that by means of a few steps will put us with each of them closer to the objective, our precious photographs.
Step 1: Connect the memory card to your computer.
Connect the memory card to your computer.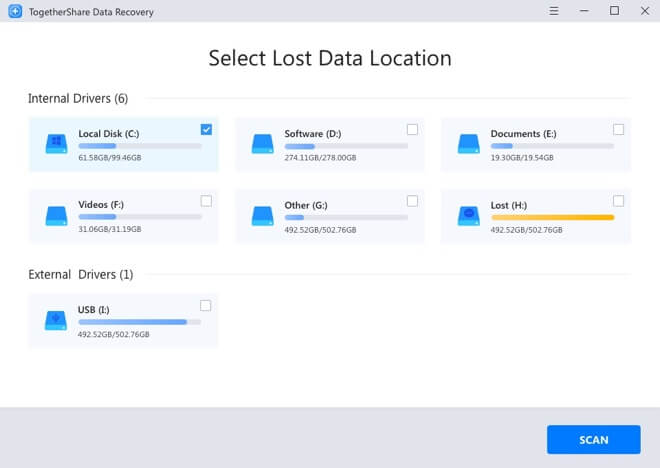 Step 2: Choose the memory card to scan.
For this step we must indicate to the program that the memory card is the unit to be scanned and that we want the files (in this case our memory card) that we selected before to be searched in it, then we will press the scan button and the search will start automatically, being able to take a little more than a few minutes.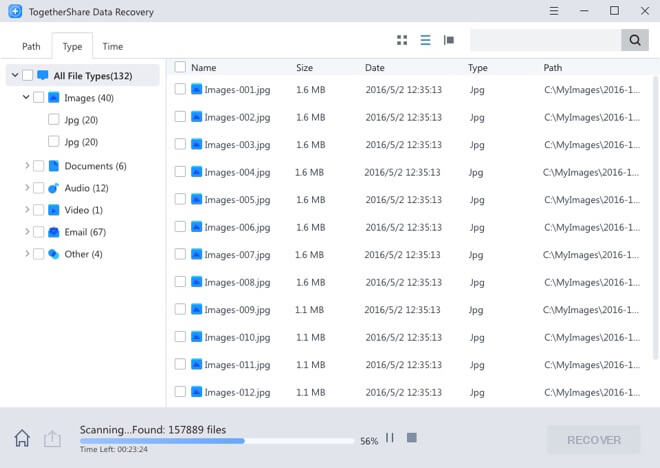 Step 3: Preview and recover deleted photos from memory card.
Once carried out the first and second step we will finally be able to see, the results thrown by the exploration of the memory card, will be listed and with indicators to mark, this is because TogetherShare Data Recovery gives us the possibility of recovering what we most want without worrying about corrupt files and simply fill our hard drive with more, in the form of an image gallery the photos will be shown for our easy selection, once we have chosen the images to restore we must press the button with the word restore and indicate at the same time the route where we want to save them.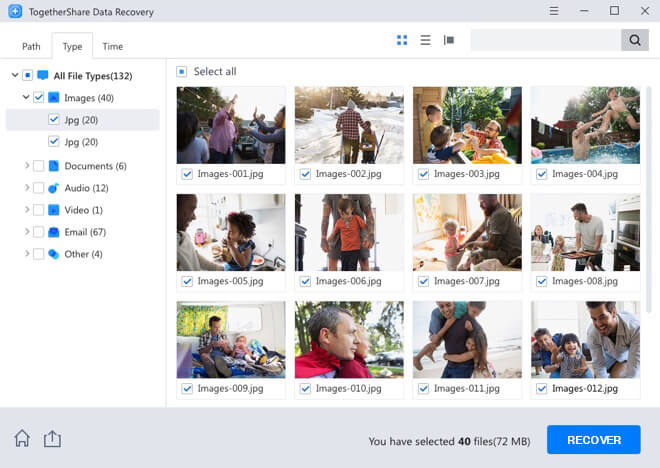 It should be noted that TogetherShare Data Recovery offers two scan modes: quick scan and deep scan. If you can't find all deleted photos from memory card after quick scan, just try deep scan mode. After deep scan, it will find all recoverable photos in the memory card. Then select the wanted photos, and save them by clicking on "Recover" button.
TogetherShare Data Recovery
Powerful & easy-to-use data recovery software