As a kind of memory card, the memory stick is firstly developed by Sony and is used in Sony's digital devices. However, as it's light, reliable and easy-to-use, it becomes more and more popular, some other brands of devices began to support the memory stick. Also, some other companies began to develop and produce the memory stick, such as SanDisk, Samsung, Lexar, Transcend and more. The handy, portable and fast memory stick is now necessary for many digital device users.
Data on a memory stick is easy to be lost for different reasons. We would delete the files on a memory stick by accident. The memory stick would be formatted wrongly. Memory stick may be damaged, crashed, or corrupted in some situations. Anyway, the data on the memory stick would get lost in the above-mentioned scenarios. We need versatile and efficient data recovery software in such cases.
---
Download the software for memory stick data recovery
We will introduce the versatile data recovery tool for memory stick – TogetherShare Data Recovery. In different data loss scenarios, this product can perform very well in recovering the lost or deleted movies, photos, music files or other files.
TogetherShare Data Recovery
Powerful & easy-to-use data recovery software
You can download and use TogetherShare memory stick data recovery software on different operating systems. It's fully compatible with Windows XP/Vista/7/8/8.1/10. Also, the Mac version of this product is available. With this comprehensive and powerful data recovery software, you don't need to worry about data recovery for the memory stick. It can help you recover the lost or deleted files from memory stick fast and efficiently.
---
How to carry out memory stick data recovery step by step?
It's simple to recover lost data from a memory stick. Connect the memory stick to a computer first, then install and run the TogetherShare memory stick data recovery software. Follow the tutorial to perform the data recovery step by step and rescue your memory stick data very quickly.
Step 1. Choose the memory stick.
After running the product, you can see the memory stick in the device list. Choose it and click the Scan button.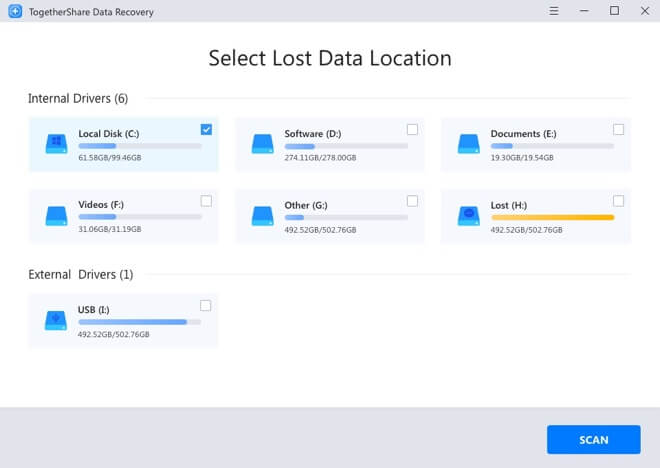 Step 2. Scan the memory stick.
The software will scan the memory stick in a fast and deep manner. Any lost or deleted files can be found by the product.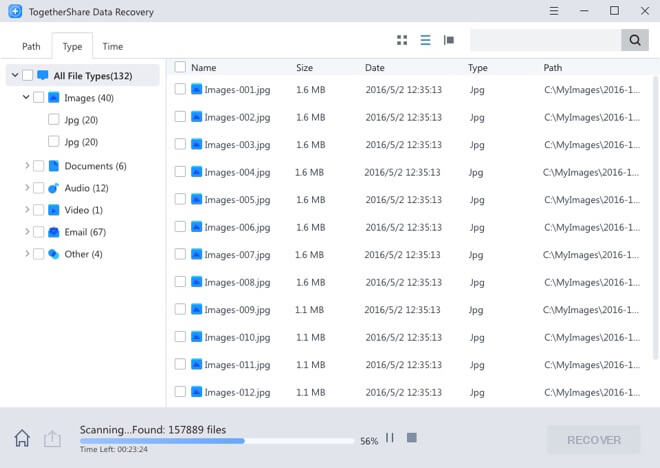 Step 3. Start the memory stick data recovery.
Files will be listed by path, type or time after scanning. You can locate your desired files easily in different ways. Preview the files first and select the successfully recovered files to save.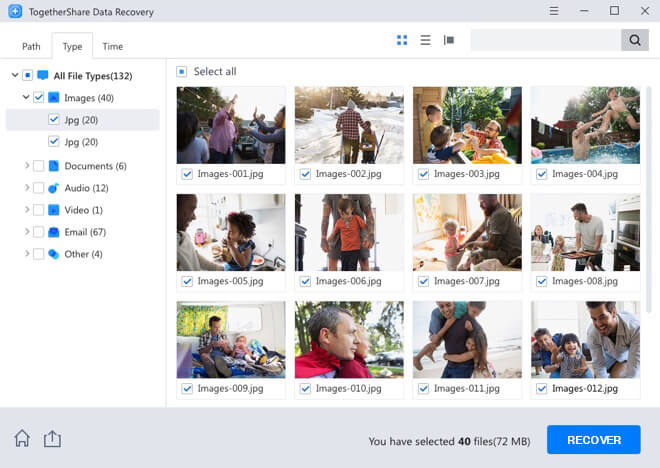 To avoid data loss on a memory stick in the future, it's strongly suggested to back up your important files regularly. Also, please check carefully before deleting files or formatting drives. If the memory stick is used for a long time, please ensure to check the status and it's better to change a new one.
TogetherShare Data Recovery
Powerful & easy-to-use data recovery software