Bookmarks for the Safari are very useful to record your favorite sits or frequently visited sites. You are able to access the frequently visited sites easily from bookmarks directly. Nearly every iPhone user would use this feature to keep the favorite sites. It's important to keep the bookmarks safe, otherwise, it would be hard for you to visit different sits easily and quickly. For example, you can back up the bookmarks with iCloud.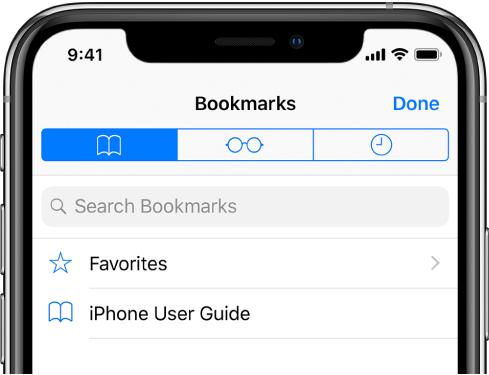 However, for many iPhone users, they would think it's not necessary to create backup of the bookmarks, or the bookmarks failed to be synced to iCloud some times. If there were issues that occurred, the bookmarks would be missing or lost. Is there a reliable way to recover missing or lost bookmarks on iPhone? Don't worry, there is still a good solution for you to recover missing bookmarks on iPhone. We suggest you download and use TogetherShare iPhone Data Recovery to recover the lost bookmarks.
TogetherShare iPhone Data Recovery
Easily recover lost data from iPhone, iPad, iPod touch, etc.
---
Why Choose TogetherShare bookmark recovery tool?
Among too many data recovery software in the market, TogetherShare offers the leading recovery tool for iOS devices. It's the most trustworthy bookmark recovery tool for iPhone users.
Also, this comprehensive software is able to recover lost Kik messages, WeChat messages, WeChat contacts, call history, reminders, notes, WhatsApp messages, photos, videos, audio, calendars, contacts and other data from iPhone.
If you lost bookmarks or other data from iPhone due to different reasons, the software can help you to get back the lost bookmarks or other lost data from iPhone in most situations. It can help you in many different data loss scenarios, such as deleting, iOS upgrade, iPhone broken, reset, and others.
At last, it offers very simple and understandable interface. You can easily use the software without too much computer or software experience. And the wizard-style interactions can lead you to recover missing bookmarks on the iPhone step by step.
---
Tutorial: a 3-step simple user guide to recover missing bookmarks on iPhone
Yes, only 3 steps needed, then you can easily recover your lost or missing bookmarks from iPhone. Before recovering the lost bookmarks, we suggest you stop using the iPhone to avoid further damage to your lost data on the iPhone. Then just follow the instructions as below:
Step 1. Connect and choose the iPhone.
If the bookmarks are missing from your iPhone, please ensure to connect it to the computer first. Then run the software and you will see the iPhone. Click to select it.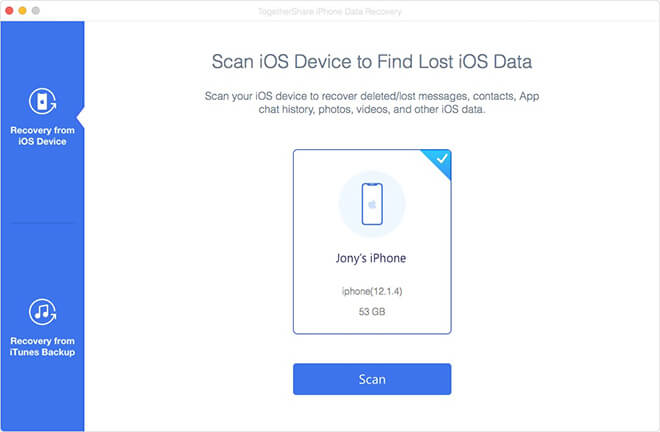 Step 2. Scan the iPhone for missing bookmarks.
After clicking the Scan button, you are able to see the product will scan the iPhone very fast. It will show the found bookmarks directly during the scan process.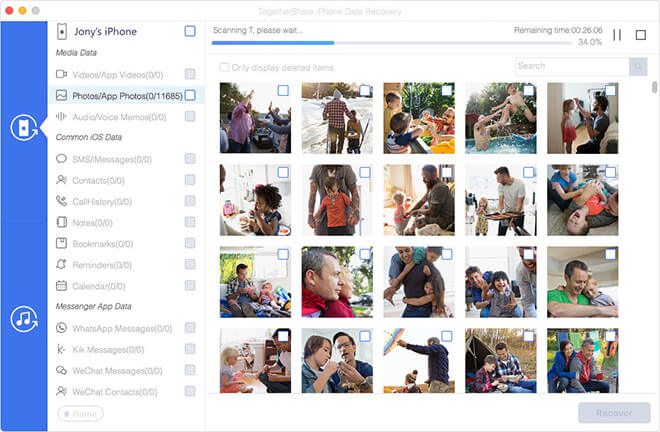 Step 3. Recover missing bookmarks on iPhone.
Once the scan is completed, you are able to preview all the found data from iPhone. Verify first and then only select the wanted bookmarks to recover.
With this software, you can recover missing bookmarks on iPhone directly if you didn't back up the iPhone data with iTunes or other software. If you backed up iPhone with iTunes, you can still easily extract only the individual bookmarks from the iTunes backup with this software. Also, you can easily extract any other specified data from iTunes without restoring the entire backup. To recover lost data from iPhone, we suggest you download and use this software directly.
TogetherShare iPhone Data Recovery
Easily recover lost data from iPhone, iPad, iPod touch, etc.