An SSD (Solid State Drive) is a type of drive. It stores data in a way using integrated circuit assemblies as memory. Without any mechanical components, the SSD is totally different from the traditional hard disk drive. They are typically much quieter, have faster data access speed. Even with the new method to store data, the SSD is not immune from any data loss events just like the hard disk drive. Thus, SSD data recovery software is necessary for users.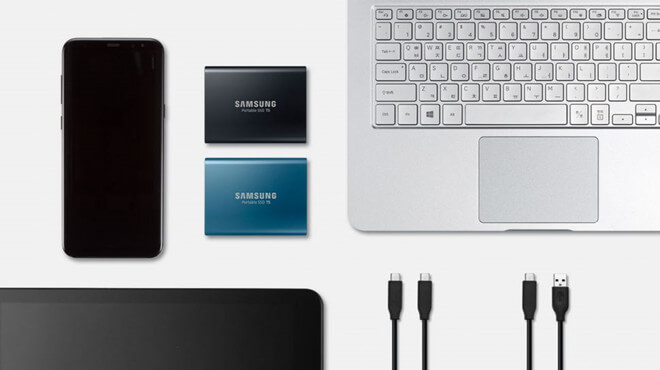 As Solid State Drive is widely used, data loss happens a lot on SSD in our daily life. Many scenarios could lead to data loss from SSD. Some common issues include component failures, power failures, firmware update errors, human errors, viruses, accidental deleting and formatting, third-party software malfunction and many other unknown issues.
There is no need to be panic anymore when you delete or lose your precious photos, videos, audio files, documents, emails, archives or any other files on SSD. To minimize data loss, we recommend the best SSD data recovery software – TogetherShare Data Recovery.
Download the SSD data recovery software
TogetherShare Data Recovery is a super data rescue tool, which provides you with an easy and effective way to restore your data. It supports to recover data from any model or brand of SSD, such as Seagate, WD (Western Digital), Intel, SanDisk, Samsung, PNY, Crucial, Kingston, Transcend, Toshiba, and any other SSD brand.
TogetherShare Data Recovery
Powerful & easy-to-use data recovery software
Download this software to recover lost data from SSD safely. This software is read-only and will not do any write operations to your SSD during the scan procedure. Before purchasing the full version to perform the actual recovery, you can preview the found files in the product directly. So it's absolutely a safe and risk-free software for SSD data recovery.
---
Easy steps to use the SSD data recovery software
Download and install the product first. Please ensure don't install the product to the SSD where you want to recover data from. Then you can just follow the tutorials step by step to restore your lost data with the SSD data recovery software.
Step 1. Select the SSD drive.
Launch the product and you will see your SSD in the interface of this tool. Select the SSD and click the Scan button to continue.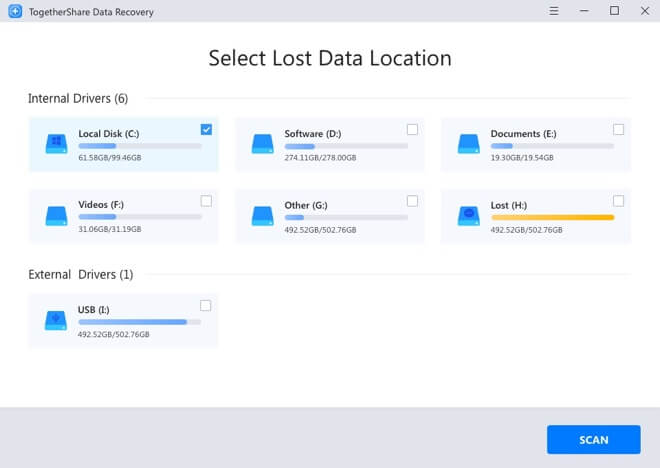 Step 2. Scan the SSD drive.
The SSD data recovery software will execute the scan process immediately. It will scan the drive with different methods to find your lost data more efficiently and accurately.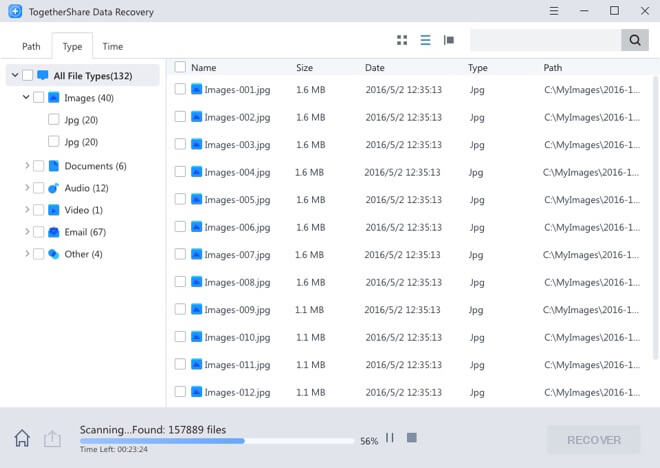 Step 3. Preview and recover data from SSD.
Before performing the actual data recovery from SSD, you are able to check the validity of the found files with preview feature. If you ensure the files are intact and can open/play normally, then select the files to recover.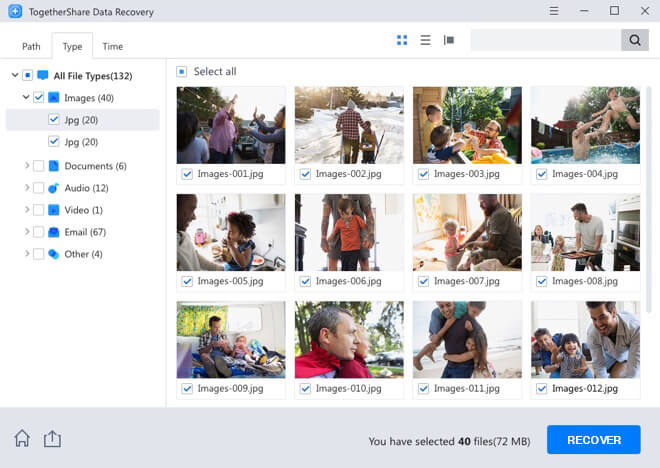 Except for recovering data from SSD, TogetherShare Data Recovery can also recover data from the hard disk drive, USB flash drive, SD card, memory stick, camera, and any other data storage media. Download this comprehensive data recovery software if you lost data on any storage devices and start the data recovery immediately.
TogetherShare Data Recovery
Powerful & easy-to-use data recovery software