Summary
If a partition was deleted or lost, space will become unallocated on the drive. As the partition does no longer exist, of course, you cannot access the space to read your data directly in Windows explorer. However, don't worry, this article will show you how to recover deleted hard drive partition and get back your lost data.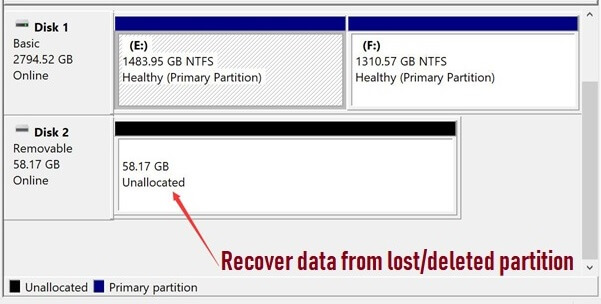 ---
Download the software for deleted hard drive partition recovery
After deleting/losing a partition, it would be very good to have the lost partition and data back. Is it possible to achieve that goal with any software? Yes, a data recovery tool can satisfy your needs. Now we will share this reliable deleted/lost partition recovery software to you, TogetherShare Data Recovery, a professional data recovery to recover data from deleted hard drive partition.
It can analyze and detect the lost/deleted partition directly for you. Then you can scan the partition to recover lost MS Office documents, WPS files, PDF files, photos/pictures, video clips, audio, email files, tax files, archives, and any other files.
No matter the lost partition was NTFS, FAT32, exFat, or any other supported partitions, this data recovery software can help you find the lost partition and then get back the lost files. It can even recover the original filenames and folder structures for some of the lost partitions.
You would lose/delete partition/volume on Windows or Mac computer. But there is no problem for TogetherShare. It offers both Windows and Mac version for any users. Please download it now based on your own systems:
TogetherShare Data Recovery
Powerful & easy-to-use data recovery software
How to recover deleted hard drive partition and restore the data?
After the hard drive partition is deleted from a hard disk, then you will not be able to see the drive in explorer and you may think it's lost forever and cannot get back the data from the drive. Actually, there is still a chance to extract the data from the deleted hard drive partition. Please check and see how to do it as below.
Step 1. Choose the deleted/partition.
If you deleted or lost partition on a hard drive, please connect it to the computer. Run the software and you will find the lost partition is detected automatically in the product. Just select it and click the "Scan" button.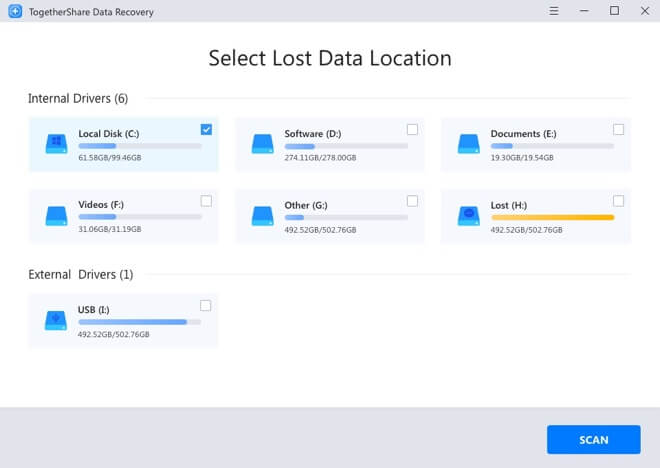 Step 2. Scan the drive for lost partition and data.
The software will quickly scan and recover the deleted partition and show all the found files under the recovered partition in the product. As the scan is read-only, so it will not undelete the partition on the original drive directly.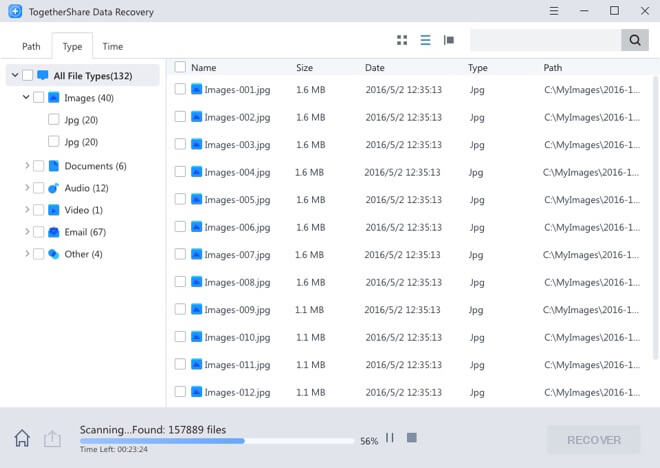 Step 3. Preview and recover data from deleted partition.
After scanning, you will see the recovered partition and files are listed. Choose a file and preview it before recovering. Then only selected the needed files to recover and save to another drive.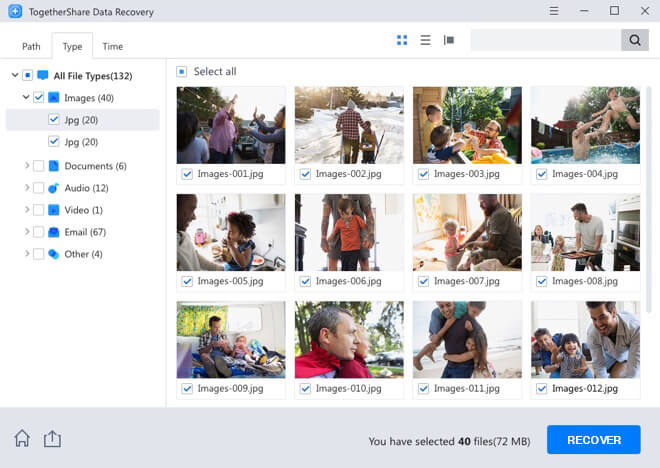 After recovering the lost data successfully, then you can create a new partition on the unallocated space and copy the recovered files back.
After deleting or losing data by accidental, please don't try to recreate the partition directly. The first step is to recover the lost data from deleted partition with a data recovery software. TogetherShare Data Recovery should be your best choice. It can recover data with perfect result and it's very simple to use. If you lost partition and wanted to have a try, just download it now.
TogetherShare Data Recovery
Powerful & easy-to-use data recovery software