"Hi, I have an old digital camera, and it will be sold on eBay.com. Before selling it to other person, I want to permanently delete all my photos. Is there any way to shred the photos to prevent them from being recovered by data recovery software?"
Before you sell your computer or digital camera, you'd better permanently delete your private photos, such as family photos, Children photos, selfies, etc. But, after you delete the photos and empty the recycle bin, the deleted photos still can be recovered by data recovery software.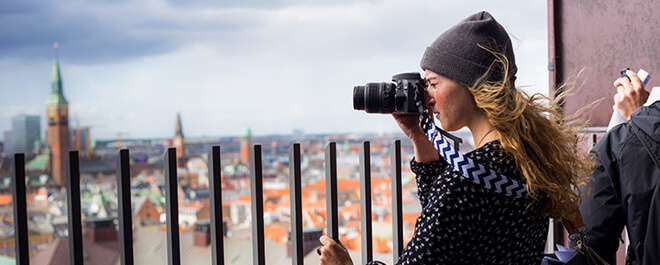 ---
Download photo eraser for Windows/Mac OS
Data erasure software or photo erasure software is the best tool for you to permanently shred photo files. Here, we would like to introduce a powerful photo eraser - TS DataWiper. It offers military level data erasure standards including HMG Infosec Standard 5, Baseline; DOD 5220.22-M; U.S. Army AR380-19; Peter Gutmann's algorithm.
It will securely and permanently delete your photos beyond the scope of data recovery. It means once the photos are erased by TS DataWiper, the erased photos will be lost forever, can't be recovered by any data recovery software. So, before completely shredding your photos, you'd better backup them to another hard disk drive.
TS DataWiper can be installed on both Windows computer and Mac computer. Download it here:
TS DataWiper
The most powerful data erasure software to permanently erase data.
The easy way to shred photos
This powerful photo eraser software is able to securely and quickly shred your photos. In order to shred photos in different situations, it offers three modes.
Mode 1. Shred photos selectively.
Just add the photos to the erasure list, then click on Erase Now button to permanently shred the added photos. Very easy and flexible.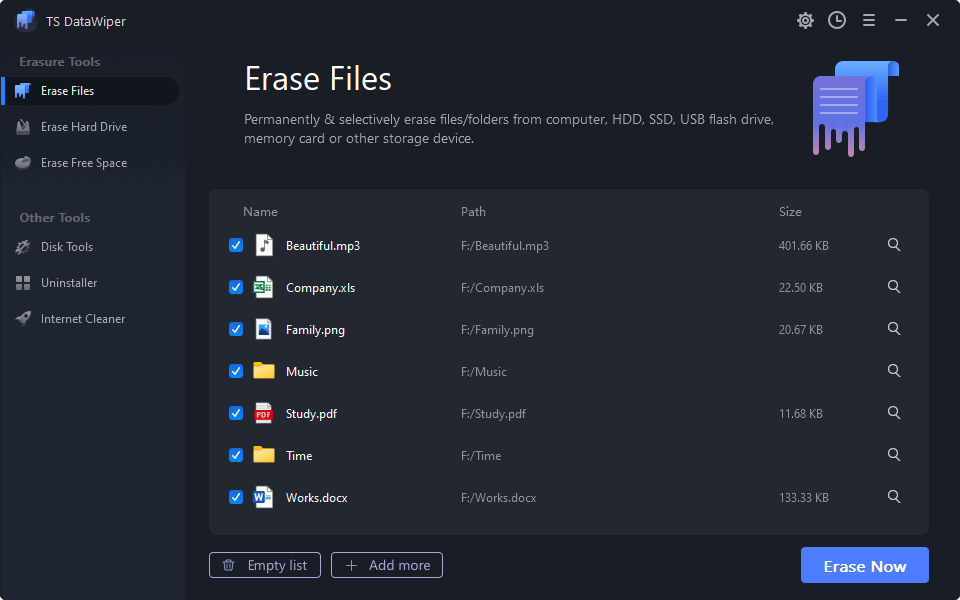 Mode 2. Erase all photos by 1-click.
This mode will help you wipe an entire hard drive or memory card, it will quickly and permanently erase all data including the photos on the hard drive/memory card.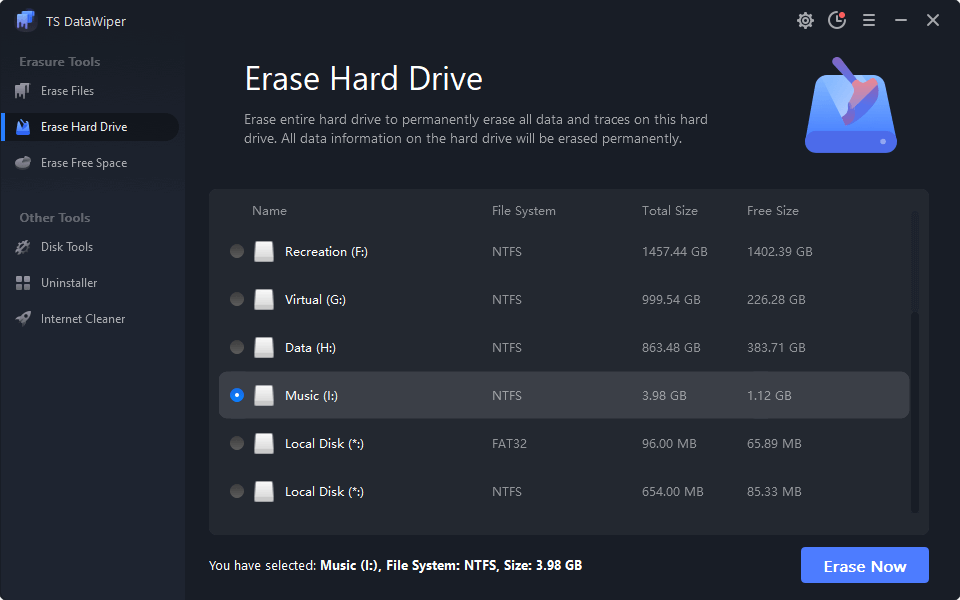 Mode 3. Erase deleted photos.
Erase free disk space of your hard drive to permanently erase already deleted data including deleted photos on your hard drive without affect the existing data.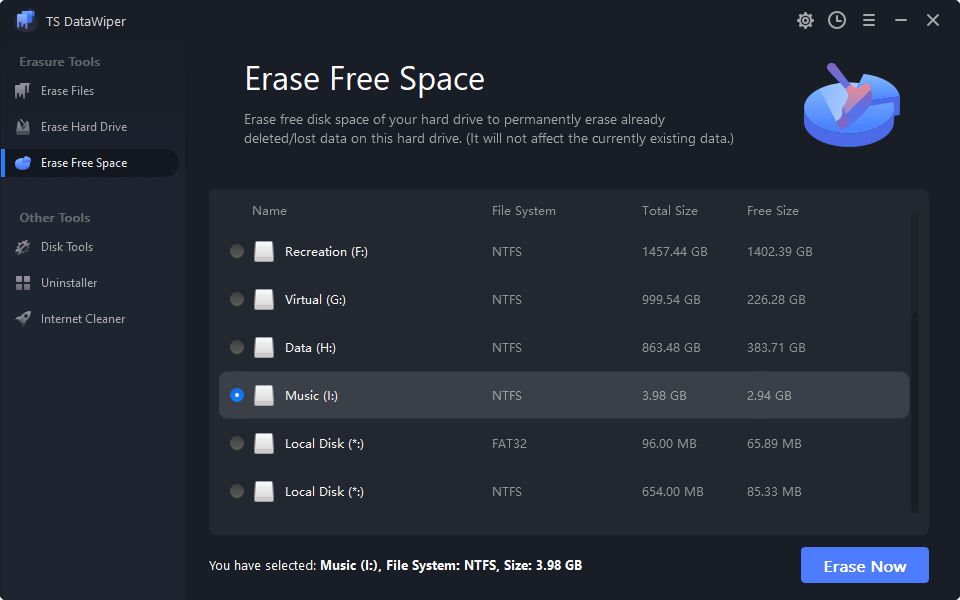 TS DataWiper is reliable and safe data erasure software. It will not cause any physical damage to your computer or device. You can trust it and use it to shred photos or any other data from hard drive, USB flash drive, memory card, portable disk, digital camera, etc.
If you don't want to other people have the chance to share your private photos, you can use TS DataWiper to permanently erase your photos. It is strongly recommended to shred all your photos before you sell or donate your computer, memory card, digital camera, etc.
You can use the mode 2 "Erase Hard Drive", then select the hard drive on where the photos are stored. It will help you wipe all data on the hard drive and device. Once the process gets finished, you can run data recovery program to scan the erased hard drive. You will find that no data can be found - all the data is gone forever.
TS DataWiper
The most powerful data erasure software to permanently erase data.