"I want to completely remove some word documents from my Mac machine. However, the word documents can still be recovered after deleting and emptying Trash, or even formatting the drive. How to destroy Word documents on Mac permanently?"
Actually, there are many users want to erase Word documents or any other files permanently in some cases on their Mac computers. For example:
Wipe memory card data, such as photos and videos.
Erase a computer completely before you sell or donate it.
Shred related files of your privacy information and profile.
Permanently shred files that are not needed but confidential.
Erase Data from USB Drive on Mac after transferring data.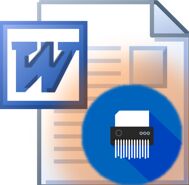 To do these jobs for Mac users, a trusted data erasure tool is needed. After erasing data with a professional and effective file shredder, you don't need to worry that the data can be recovered with any data recovery software. We suggest you download and have a try with TS DataWiper for Mac.
TS DataWiper
The most powerful data erasure software to permanently erase data.
3 modes to destroy Word documents on Mac
We will show you how to destroy Word documents on Mac with this data erasure application. There are 3 modes in the software that can help users to completely erase Word documents or other files. Please check as follows about the 3 modes and then choose a proper mode to do your task.
Mode 1. Shred individual Word documents on Mac.
If you just want to remove some specified Word documents from your drive/device on Mac, please select this mode to only shred the Word documents. You can choose the Word documents or the folders that contain the Word documents to shred.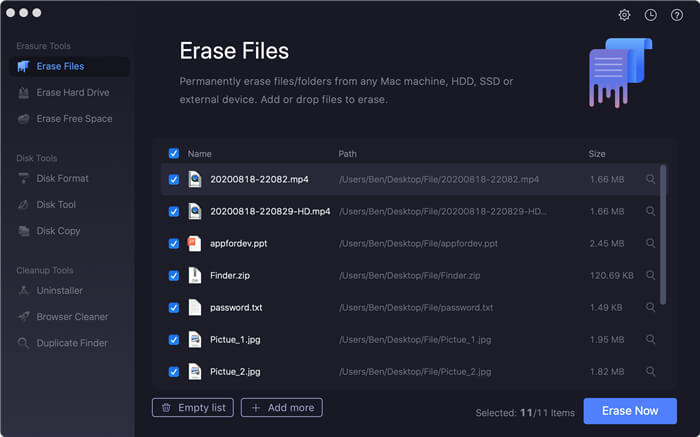 Mode 2. Erase entire volume to wipe Word documents.
Also, you can choose the entire drive to wipe directly. In this way, it will wipe all the Word documents and any other files on the drive. So you need to check carefully and make sure all the needed files are backed up or moved to another drive first.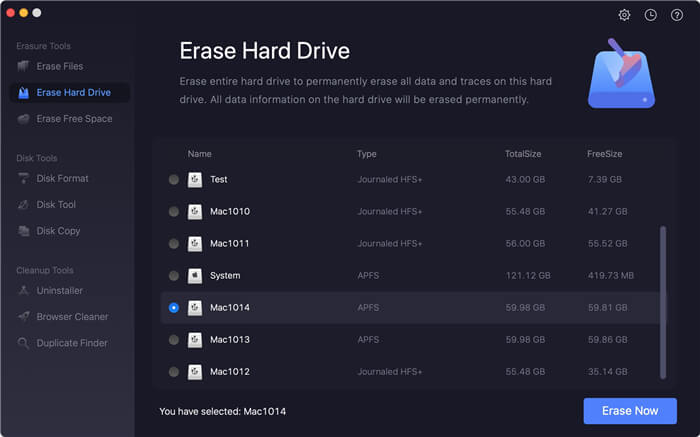 Mode 3. Wipe deleted Word documents by erasing free drive space.
Sometimes, the Word documents were deleted and you still want to wipe it and avoid data recovery. Then you can choose this option to wipe the free space on the drive. It can wipe the deleted Word documents or any other lost files on the drive totally.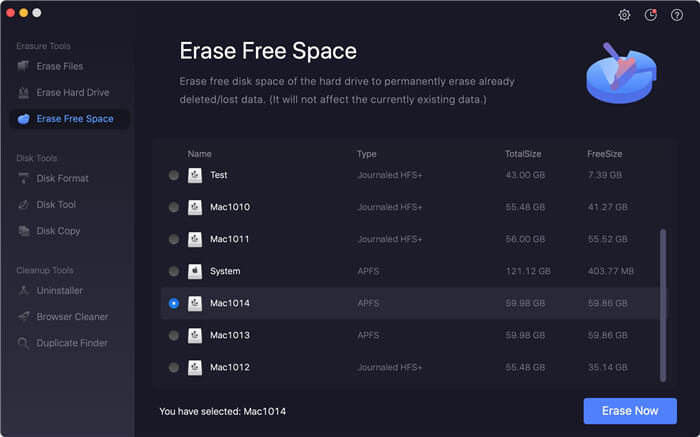 This data erasure software can wipe data from different types of drive and devices. It provides reliable ways to erase data from digital camera, internal/external hard drive, SSD, memory card, USB key, and so on.
Besides. TS DataWiper for Mac is compatible with different versions of Mac operating systems. It supports to wipe data in macOS 10.15 Catalina, macOS 10.14 Mojave, macOS 10.13 High Sierra, and others. Feel free to download the tool to wipe your documents, photos, videos, audio files, archives, and any other files permanently.
TS DataWiper
The most powerful data erasure software to permanently erase data.